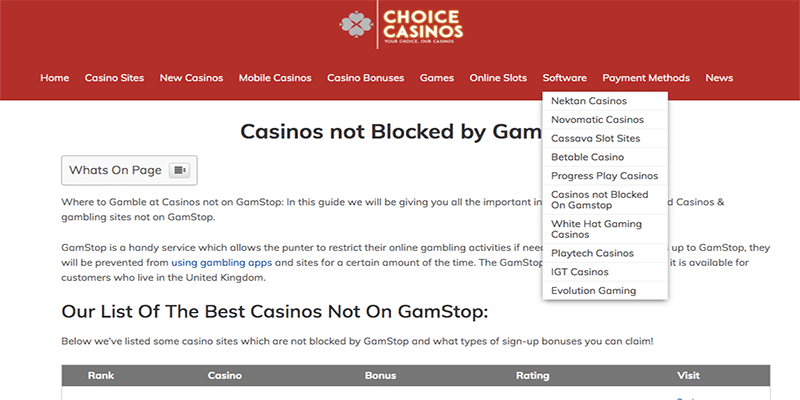 Rogue casino affiliates are actively targeting problem gamblers who have signed up to the GamStop service, which self excludes players from all licensed UK Gambling Commission online casinos.
With the purpose of targeting search terms related to GamStop  such as 'Non GamStop Casino', in the hope that individuals who have previously subscribed to GamStop look for a work around and start playing again, with the affiliate hoping to benefit financially from them doing so.
Responsible gambling is a very serious issue and those who work in the iGaming industry including affiliate marketers should not use the methods available to control your gambling, as a vehicle to generate traffic from via the search engines and benefit from it financially.
These type of affiliates are the lowest of the low and no casino affiliate programme should have any business working with them.
The site ChoiceCasinos.com is one such casino affiliate that has been exposed by The Pogg here and also Casinomeister here, for deliberately trying to attract problem gamblers to their 'Non GamStop Casinos ' page on their site.
Subsequently providing visitors to said page with a list of "Our List of the Best Online Casinos Not on GamStop" – Which transpires to be a rogues gallery of known blacklisted, rogue and unlicensed casinos.
Kudos to The Pogg and Casinomeister in leading the way in exposing this despicable marketing tactic.
GamStop is a good service for those with a gambling problem, but we at Casino Gazette also recommend using it in conjunction with BetBlocker.