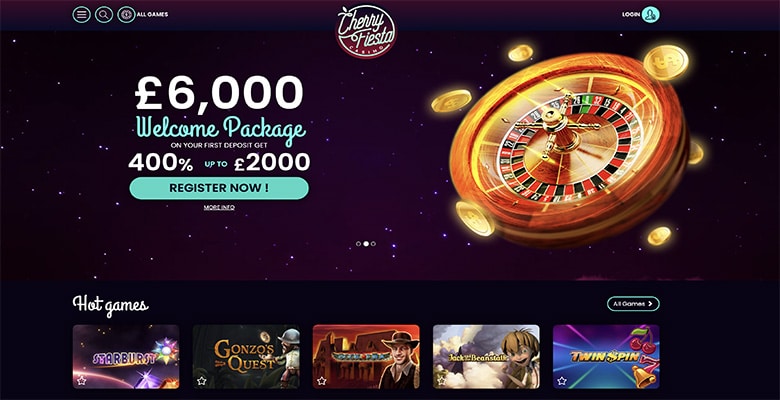 Latest Gambling News
Cherry Fiesta Casino Targeting Players signed up with GamStop
Curacao based Cherry Fiesta actively recruit UK players who have self excluded with GamStop
There has been a lot of talk in the mainstream media and press in the UK recently concerning the existing gambling regulations, governing licensed operators who actively operate within the UK.
Indeed some of the proposed new rules and regulations from think tanks and groups such as the Parliamentary All Party Betting & Gaming Group,  are being triumphed and lauded by the likes of The Guardian newspaper, who recommend introducing punitive measures to the existing Gambling Act.
Indeed some of the suggestions being promoted, for example introduction of monthly loss limits and bet limits, will surely drive responsible players into the arms of operators who are based in unregulated territories such as Curacao.
A perfect example of this has come to light this week, regarding an operator based out of Curacao and unlicensed to operate in the UK. In the UK all online casinos have to sign up to GamStop the self exclusion service, this is part of their licence requirement.
GamStop being a service which enables players to 'self-exclude' from all UK online gambling sites upon signing up. Therefore should a player wish to self exclude from all licensed UK operators, they can do so by utilising GamStop.
We have in the past here on Casino Gazette written about affiliates promoting Non GamStop sites, targeting those players that have previously excluded from UK online casinos by using the service provided by GamStop.
Well a very real example of this practice of an unregulated operator, that operates offshore from the UK, in enticing individuals with a reported gambling problem has come to light.
Curacao based Cherry Fiesta encouraging Problem Gamblers to Sign Up
Our sister site Casinomeister earlier this week on 10th November 2020 booted into their rogue blacklisted casino section, the Curacao based Cherry Fiesta online casino.
So why and how did Cherry Fiesta end up in the pit? Quite simply they were caught enticing problem gamblers from the UK to sign up to their site.
This is really bad practice, but is an example as to what is happening now and how Cherry Fiesta and sites like these, who don't care about responsible gambling, will be those operations that benefit from any draconian measures made to the current gambling legislation in the UK.
Measures and changes to the UK gambling legislation and regulations, which will drive players to the shark infested unregulated waters of operators who will be waiting with open arms.
You can read in full on Casinomeister the Cherry Fiesta rogue listing here.