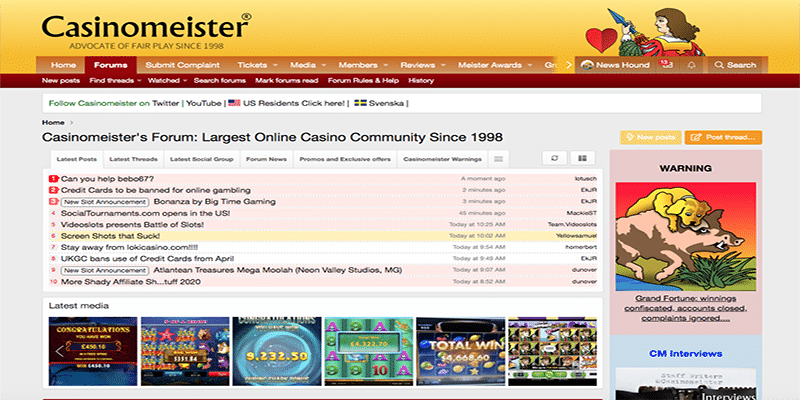 Casinomeister, sister site to Casino Gazette and regarded as the leading player advocate for players of online casinos, anywhere in the world. Providing a wealth of information for players, operators and individuals working in the online casino space. Casinomeister's Alternative Dispute Resolution service, known as PAB, has been responsible for getting players paid in excess of 7 figures combined over the years.
Established way back in 1998, Casinomeister is one of the oldest casino  information sites anywhere on the net. 22 years young and still  going strong, the site set up by  Bryan Bailey who is still very much at the helm, is rightly regarded as one of the best sites around providing a much needed service for players at online casinos.
The forum community on Casinomeister is also one of the most active online casino forums to be found anywhere on the internet. Frequented not only by players, but representatives of numerous iGaming operators. All accredited casinos on Casinomeister also must provide a forum representative to answer any questions or issues that may arise.
The annual Casinomeister awards which are published during the third week of January each and every year, are rightly regarded as the number one casino awards in iGaming. With the best casino of the year awarded being voted for by the members that make up the forum community at Casinomeister.
The rogue and blacklist section of Casinomeister, is the original and leading blacklist of all online casinos that have turned to the dark side. With this list being continually updated and monitored, to ensure all information published is bang up to date and relevant.
Casinomeister's importance in the iGaming industry and the operation of online casinos cannot be understated. Indeed this was recognised back in 2006, when it became one of the first casino information sites to have an online slot developed, which can be played still to this day and for free here on Casino Gazette.
To access Casinomeister just click this link here.