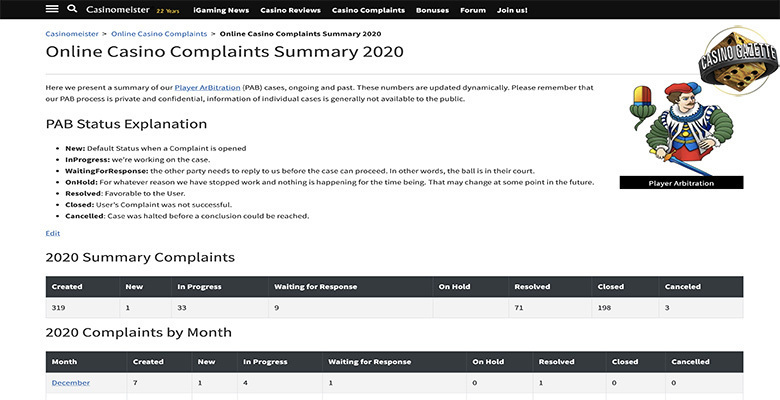 Latest Gambling News
Online Casino Complaints – Player Arbitration Service
Casinomeister provides real time statistics concerning their 'Online Casino Complaints' Player Arbitration Service
The leading casino player advocate site Casinomeister has unveiled a new section to the resources afforded to visitors of the site, by unveiling real time statistics concerning their Player Arbitration Service.
The Online Casino Complaints section of Casinomeister, of which you can view for yourself here, provides a breakdown summary of past and present casino Player Arbitration Service cases the site deals with.
Led by their player complaints manager Max Drayman, the Player Arbitration Service provided by Casinomeister, has since 2001 been responsible for dealing with over 5,000 complaints. In the process ensuring over €6m has been returned to the players found in their favour, during the near 20 years it has been in operation.
Breakdown of Online Casino Complaints
Casinomeister provides a complete breakdown of player complaints in relation to the online casinos that it has received and dealt with throughout the year.
The detailed information provided by the site includes the overall total number of complaints received and the status of each complaint, including those resolved, on hold, found in favour of the player, or indeed the casino.
Furthermore Casinomeister also provides a detailed breakdown of all operators its Player Arbitration Service has received a complaint about – again detailing the current status of each complaint.
The Player Arbitration Service run by Casinomeister
Originally called the 'Pitch A Bitch' Service, it was renamed to 'Player Arbitration Service' back in 2016, but still receives the PAB moniker to this very day.
A member of the Chartered Institute of Arbitrators covering the UK and the EU, the service is provided to visitors of the Casinomeister website free of charge.
A private confidential service, Casinomeister arbitrates between the customer/player and online casino of which the complaint has been raised against.
Fully compliant with GDPR legislation, no details of any actual complaint are made public. Other than in the statistics covering all complaints dealt with.
Whilst there are now several other sites in the iGaming space which operate a similar service to Casinomeister, the PAB service provided by Casinomeister is regarded by its peers and players alike as one of the best ADR services in the iGaming industry.