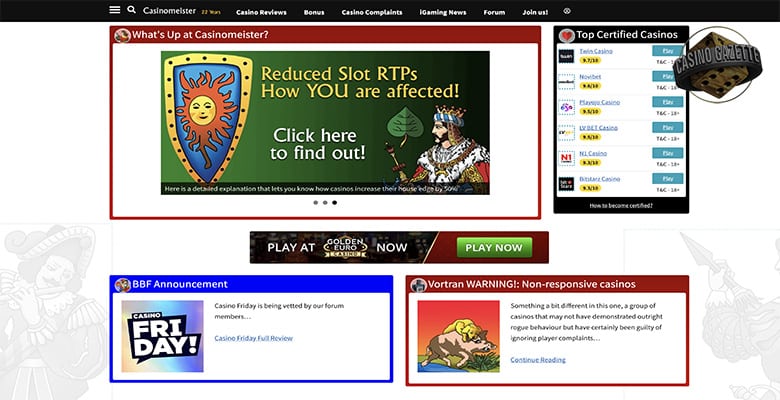 Casinomeister, the advocate of fair play, has reached a significant milestone: twenty-three years since the launch of the website – 10 June 1998.
What began initially as a hobby site was transformed into a one-man business in the early years of the Internet. Since 1998, Casinomeister has stuck to its original mission statement:
"Trust is what it's all about. Our mission at Casinomeister is to provide verified information; information that enables players to make smart choices. Since trust is generated by information, the more players know about online casinos, the more at ease and safer they will be."
And so it began. Casinomeister was run primarily by Bryan Bailey, the director and owner of the website, and it was his unique vision that drove the mission of the site.
In the first two months a forum was created – which is now the one of the largest and most active gamblers' forums on the Internet. Casinomeister began publishing newsletters and a news section, and Bailey began his podcasting before "podcast" was a word in the year 2000.
Within the first few months, "Standards for Online Casinos" were established. This was a first – no other website had established any standards for advertising partners, in fact – no licensing jurisdictions were doing this either. Casinomeister thus established itself as a beacon of light for the player of online casinos.
These standards have evolved into the "Standards for Casinomeister Accredited Casinos", and now Casinomeister is one of the only sites that requires these casinos to be vetted by its membership.
Most importantly, by Casinomeister's reach and influence within the online casino industry, he began solving players' complaints, and is now recognised as a leading and certified Alternative Dispute Resolution service for the player community.
The pioneers of the online gaming industry wanted to work with Casinomeister since it was the heartbeat of the players.
It was not until 2007 that Casinomeister evolved into a two-man band taking on Max Drayman as the Complaints Manager. This freed Bailey up to manage the other areas of areas of the website, the Rogue Casino section ("Rogue Casino" was coined by Bailey in 2000), casino reviews, webcasts, newsletters, news, the forum, and attending and speaking at iGaming Conferences around the world.
Casinomeister has since evolved into a small business with a handful of full-time employees, part-timers, and a couple of other webmasters who assist in the forum. After 23 years, Casinomeister remains a viable and leading influence on the iGaming community
Director of Casinomeister Bryan Bailey stated: "It's hard to fathom that an idea that was initiated during a lunch at Oscars in San Diego became what it is today. To me it's not only a business, but a service and a gathering of like-minded people – many of whom I have grown close to."
"I am humbled by the fact that Casinomeister has brought so many folks together, spawned friendships, romances, and in one instance (that I know of) – a marriage. I take pride in the site, and will always stay true to my vision, my community, and to my friends. It's been an amazing ride these past 23 years, and I'm planning to ride this out until the end of the Internets."
About Casinomeister: Casinomeister.com is an advocate of fair play, covering all aspects of the online gaming industry that affects players, webmasters, and operators. It is one of the oldest online casino information sites reporting on casino related issues since 1998. Casinomeister.com is a certified arbitrator, and has one of the largest gaming communities online.