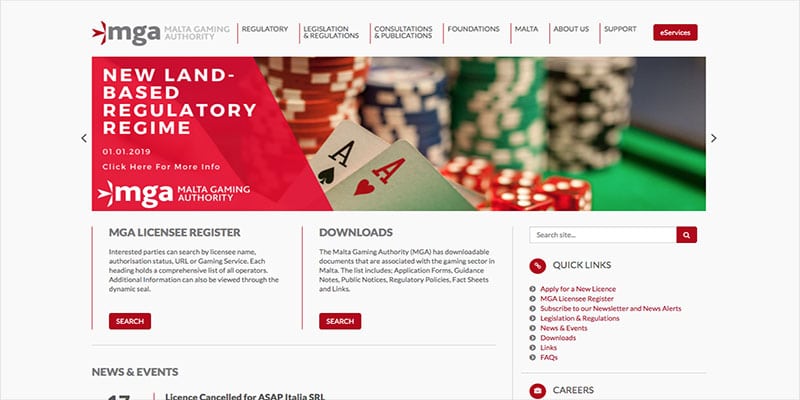 The MGA – Malta Gaming Authority are currently one of the most respected regulators of online gambling. With a Mission Statement of: "To regulate competently the various sectors of the gaming industry that fall under the Authority by ensuring gaming is fair and transparent to the players, preventing crime, corruption and money laundering and by protecting minor and vulnerable players."
Established in 2001 as the Lotteries and Gaming Authority ( LGA ) the MGA has since become one of the most respected offshore licensing jurisdictions in the iGaming industry. To the extent many of the major players from operators to casino game developers have at least a presence in Malta.
Over the past few years the MGA have been one of the most proactive licensing jurisdictions and as a result they do provide players with a recourse should they encounter a dispute with an MGA licensed iGaming operator.
Indeed, recently the MGA have been flexing their muscles somewhat, to ensure that their licensees comply with their rules and regulations. As a result penalties have been levied against operators who have been found in breach and some operators have even had their license to operate on Malta revoked.
The structure of the Malta Gaming Authority is overseen by the Chief Executive Officer, with the current incumbent being Heathcliff Farrugia, who has been in place in this role since 2018.
He oversees the Executive Committee who are responsible for major tasks and functions of the authority. There is also an Audit Committee, Supervisory Council and a Fit and Proper Committee. All of which play an important role in ensuring the regulatory framework in Malta is adhered to.
Some of the well known operators which have a base on the island include software developers NetEnt, and online casinos such as iGame and the multi platform giant that is bet365.