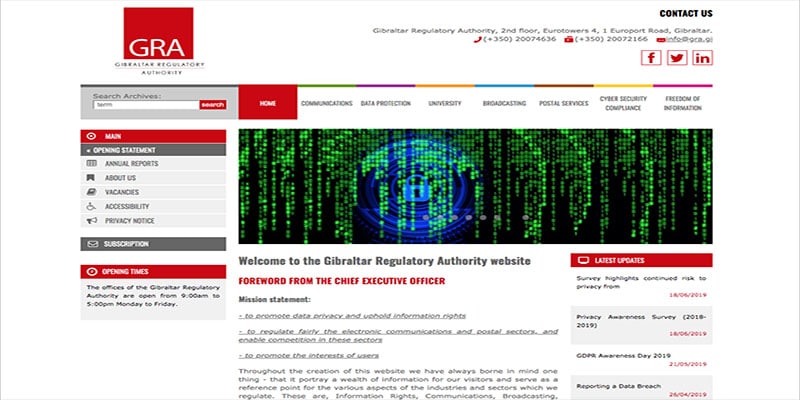 Gibraltar, the British territory on the southernmost tip of Spain is home to several large iGaming companies. The licensing authority responsible for regulating iGaming companies that operate from the 'Rock' is the GRA or the Gibraltar Regulatory Authority.
Since the late 1990's Gibraltar has been home and the base of choice for a number of well known gaming companies, with the original Victor Chandler choosing Gibraltar as their offshore operational base back in 1997.
Chandlers were quickly followed by UK High Street giant Ladbrokes, who set up Ladbrokes International in 1998, with a telephone betting call centre, in time for the football World Cup which was held in France in that year.
The advent of the new millennium saw online giants such as 888 relocate to 'Gib' as locals affectionately refer to Gibraltar as and this move by 888 saw a domino affect. With iGaming giants such as Party Poker and BWin making the move to Gibraltar soon after.
Gibraltar's close proximity to the UK, with flight times being a little over 2 hours back to London as well as it's advantageous tax regime, was a key consideration behind these iGaming firms deciding to relocate to the 'Rock'.
Now, fast forward to 2019 and firms such as bet365, William Hill and Kindred are now firmly in place in Gibraltar. With the iGaming industry being far and wide the largest private sector industry on the British offshore territory.
Gibraltar was regarded by many in iGaming as the number one offshore licensing jurisdiction for iGaming, this was based on how stringently the GRA enforced their regulations, ensuring players interests were first and foremost in their minds.
There have no doubt been a few hiccups subsequently, the Betfred rigged games fiasco being one such instance where the GRA appeared to fumble the ball, before dropping it from a great height. But that incident notwithstanding, if an online casino is licensed in Gibraltar, this should raise a positive flag for players.