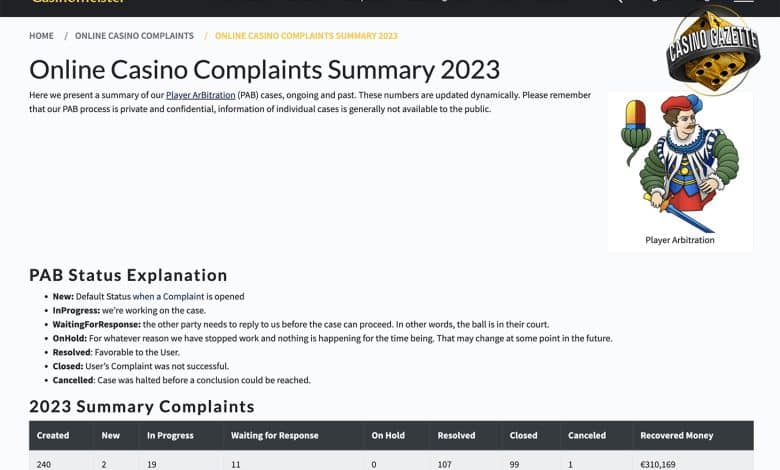 Latest Gambling News
Player Arbitration Service at Casinomeister set to surpass previous year's returns
The Player Arbitration Service (PAB) at Casinomeister is on track to exceed the impressive returns achieved last year, with only five full months into 2023 completed.
Max Drayman, the Player Complaints Manager, anticipates that the service will surpass the €322,000 returned to players last year within the next couple of weeks.
Casinomeister's online casino complaints section, which can be viewed in its entirety here, holds significant importance within the platform.
Over the years, the Player Arbitration Service has successfully assisted players in recovering millions of Euros from online casinos against which complaints have been filed with the PAB Service.
Reflecting on the numbers for 2023 so far, Max Drayman commented: "We have already handled close to 250 PABs, resulting in over €300,000 being returned to players."
He further added: "Just a few years ago, these figures would have been considered impressive for an entire year. We are optimistic about the outlook for 2023, as we are set to surpass last year's total within the next week or so."
The Player Arbitration Service (PAB) has been operating on Casinomeister since the late 20th century.
As a private and discreet service, it provides players and affiliates with a reliable avenue to address their concerns and ensure that their issues are handled by the appropriate personnel.
For further information and detailed guidance on how to submit a complaint, please visit Casinomeister's dedicated Player Arbitration Service page, where comprehensive details are provided.