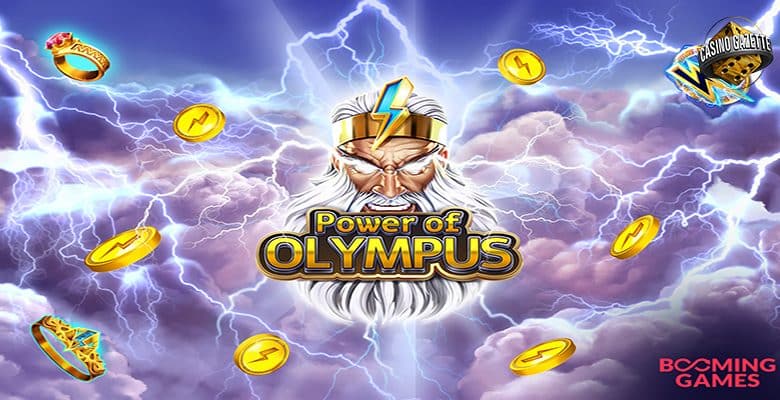 Prepare to ascend to the majestic Mount Olympus, where Booming Games invites players to come face to face with Zeus, the mighty god of lightning and monumental wins, in their latest blockbuster slot creation.
Introducing "Power of Olympus," a remarkable 7-reel, 7-row video slot that channels the divine will of the gods through its captivating Cascading Reels with Cluster Pays mechanism.
Whenever five or more symbols form a cluster either horizontally or vertically, players are granted glorious victories. But that's just the beginning of the divine spectacle.
Zeus himself unleashes bolts of lightning upon the clusters, clearing space for fresh symbols to cascade from the heavens above, potentially creating new and bountiful winning combinations.
To ensure an unending stream of triumphs, Zeus generously adds up to three Wilds or Wild Multipliers with each cascade, elevating potential wins by an astonishing 15 times.
For those yearning to experience the true Power of Olympus, the appearance of four or more Scatter symbols during the base game triggers the highly sought-after Free Spins bonus.
Brace yourself for up to 25 Free Games, accompanied by Multipliers reaching an electrifying 100x, capable of igniting the reels with astonishing victories.
As an extra divine blessing, if three or more Scatter symbols grace the screen during the bonus rounds, an additional five Free Spins are bestowed upon fortunate players.
Moritz Blume, the Director of Product at Booming Games, enthusiastically expressed:"For those eager to personally witness the might of the gods, this slot is an absolute must-play."
"Power of Olympus transports players to Zeus's realm, where his mastery over lightning generates an abundance of cascades and winning combinations."
"The inclusion of Zeus's Wilds and Multipliers takes the potential for massive wins to new heights."
Blume further emphasised: "This remarkable addition to our expanding portfolio of slots covers a wide array of themes, offering mechanics, features, and bonuses that cater to every player's preferences."
Power of Olympus epitomises the grandeur and excitement that players seek in their gaming experiences."
Prepare to be enthralled as you venture into the realm of gods, where the Power of Olympus awaits. Booming Games continues to captivate players with their diverse range of slots, each crafted to offer unparalleled entertainment and the potential for extraordinary fortunes.