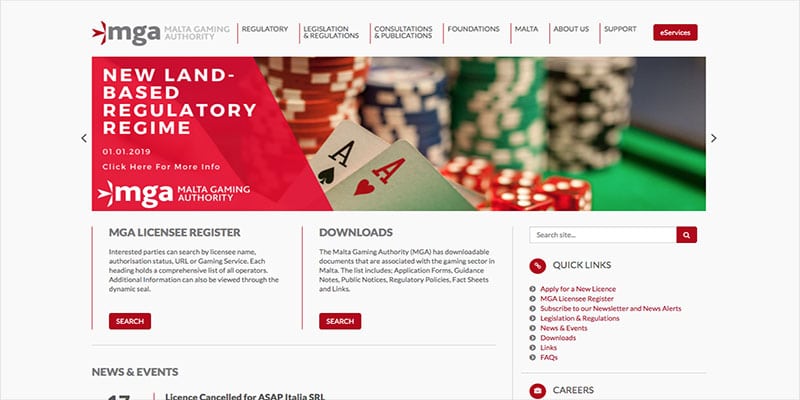 Latest Gambling News
Malta Gaming Authority Inviting Applications for CEO Post
The MGA is looking to appoint an experienced individual for the vacant post of Chief Executive Officer
The Malta Gaming Authority late last week invited applications from experienced individuals to apply for the vacant post of Chief Executive Officer.
Citing a closing date for applications of 4th January 2021, the MGA are looking for someone to fill the shoes of Heathcliff Farrugia, after Farrugia ended his association with the Malta Gaming Authority, announcing his resignation from the role at the beginning of November 2020.
Farrugia had been with the MGA since 2014 and was promoted to the role of Chief Executive Officer in 2018.
The new person to be appointed as Farrugia's replacement will be responsible for heading up the regulatory body that oversees an industry that contributes over €1.5bn to the Malta economy.
The new CEO of the MGA will report to a Board of Governors that currently comprises 7 members and will head up an executive team which  is responsible for the execution of the Authority's overall strategic vision, as directed by the Board of Governors.
The ideal candidate for the role will be expected to define the strategy and direct and manage such implementation. Furthermore the new CEO will be expected to provide leadership to initiate, lead and manage all initiatives in fulfilling the Authority's  mission, strategy, vision, and values.
MGA CEO Requirements
The MGA have also listed the skills that the ideal candidate for the vacant position should possess, these are:
A university degree with experience in a Senior Executive position;
Effective team management skills;
Executive presence to effectively represent MGA in public whilst giving business presentations and networking;
Ability to master a broad range of stakeholder relations in both public and private sectors;
Exceptional leadership, interpersonal and communication skills.