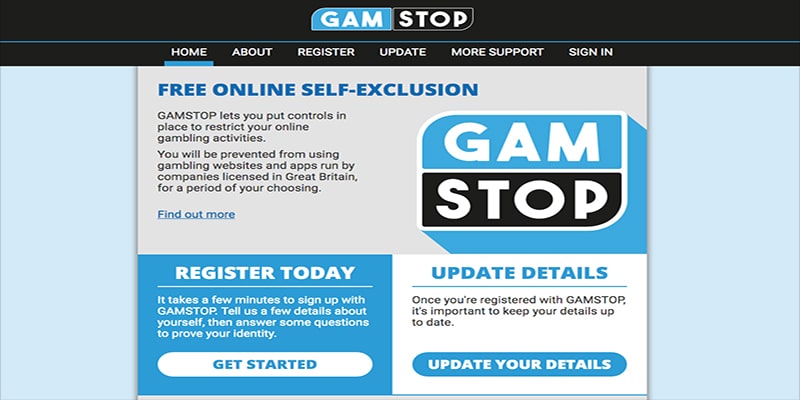 If you reside in the United Kingdom or if you play at any of the online casinos which are licensed by the UK Gambling Commission, you are able to self exclude from all licensed online casino and gambling sites in one go, by using GamStop.
GamStop was set up to allow players at UKGC licensed iGaming operators to be able to self exclude from ALL sites licensed by the UKGC, once a player has registered with the service.
Since the 1st January 2019 as part of their UKGC licensing requirements, all UKGC licensed iGaming operators have to work with GamStop. Thus ensuring players have one central place to self exclude, which in turn will exclude you from all UKGC licensed sites.
When registering with GamStop, players are provided with a choice of the length of time they wish to self exclude for. These are for either 6 months, 1 year or 5 years. The registration process requires you to provide the service with your full name, complete address and date of birth.
Please note, you can only sign up for yourself and it is against the Terms of Service to use GamStop for anyone else other than yourself.
Once you have completed the registration and have indicated how long you wish to be self excluded for, the following process takes place:
You will receive an email confirming your registration, detailing your chosen period of self exclusion.
GamStop can take up to 24 hours to ensure your details are uploaded and included on their database. Until this time has elapsed you will not be excluded from any UK licensed iGaming sites.
Once your period of self exclusion has elapsed, the exclusion will still remain in place with all operators until such time you revisit GamStop and ask for it to be removed.
It is well worth remembering that the utilisation of GamStop is only part of your journey to beat any gambling problem or issue you may have. Also, by registering and signing up to GamStop does not at this time exclude you from receiving any marketing materials from iGaming operators.
To visit GamStop and start the journey to take back control of your gambling: Please Visit GamStop Here.
For other useful advice to help you or your friend or family member beat and conquer a gambling problem they may have, please visit our Responsible Gambling Resource here on Casino Gazette.