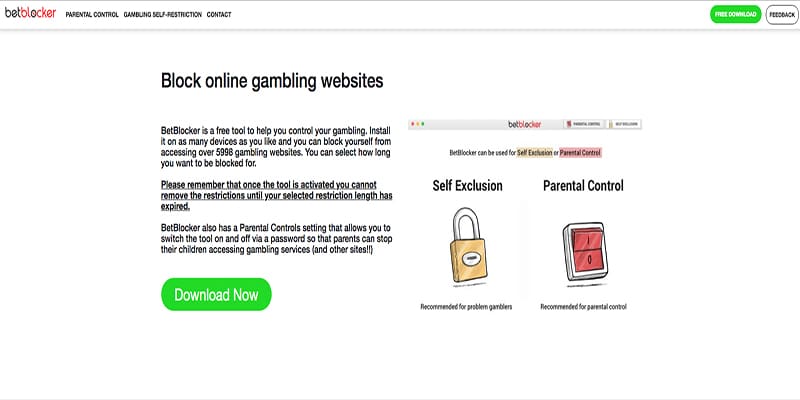 If you need actual help in stopping yourself from being tempted to gamble online, as well as signing up and registering with GamStop, you also need to seriously consider checking out BetBlocker.
BetBlocker works differently to GamStop and if used together with GamStop it will work as an effective barrier to accessing any gambling site online, which is especially useful when the urge to gamble becomes all encompassing.
What is BetBlocker?
BetBlocker is an application tool that you download as a program to your desktop computer, or as an app to your mobile phone or tablet. Once installed on your devices, you can configure Bet Blocker to block access to nearly 6000 gambling websites.
As part of the configuration process, you can choose to block your access for a period of 24h, 2 days, 3 days, 5 days, 1 week, 2 weeks, 1 month, 2 months, 3 months, 6 months, 1 year, 2 years, 3 years, 5 years or forever.
Once configured and activated, you are unable to remove the set restriction, even if you completely uninstall Bet Blocker from your device. This in our opinion is a game changer for helping individuals who may have a gambling problem. Thus working in conjunction with GamStop, Bet Blocker is a tool that those who wish to curb their ability to gamble online should seriously consider.
The individuals behind Bet Blocker have financed the tool themselves and do not charge for the service, nor do they accept any advertising to offset any of the costs that they have incurred.
Frequently Asked Questions about BetBlocker
Can the block on gambling sites be removed? No. The purpose of the tool is to assist recovery from a gambling problem. Even uninstalling BetBlocker from your device will not removed the restriction you configured and put in place. The technical support team at BetBlocker will also not assist in removing a restriction.
If someone other than myself installed BetBlocker on my device or devices, can I remove said restriction? Unfortunately no. 
What if I am selling my device, can the block be removed? No. Due to the nature of the tool and what it is intended for, to be able to remove the block, would defeat its purpose. Which is to stop anyone accessing gambling sites.
Are more gambling sites added to the block list over time? BetBlocker continually adds more sites to the number of sites they block, as and when they are found?
Who funds Bet Blocker? BetBlocker is funded by an online gambling dispute resolution service. There is no advertising or fees charged to users of the tool as a result.