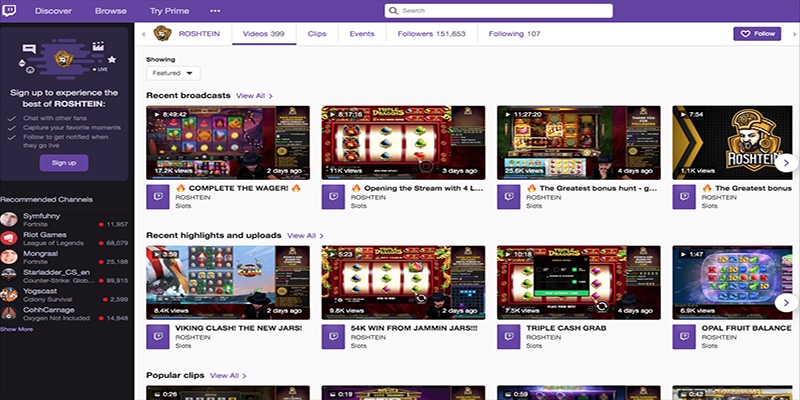 Updated: 30th August 2019 – The Pogg has crunched the numbers with regards streamers in general and the turnover of cash involved to be a live streamer. Well worth a read: Are Slot Streamers Playing with Real Money?
In light of the assertion that the popular slot streamer Roshtein actually uses demo play and demo money when producing the live streams of his slot playing, on his Twitch channel platform. The online communities at various popular gambling forums have been awash with talk discussing the subject.
Last Friday a thread was started over on Casinomeister, commenting on the fact that Roshtein had unwittingly outed himself as a fake. With Casinomeister forum member helafast, posting a link to the blog site legendofgambling.com, which alleges Roshtein had 'outed himself'.
Since Friday and over the course of the next five days, this thread concerning Roshtein has been viewed over 21,000 times and has generated 25 pages of posts. With numerous forum members contributing with different sides and viewpoints being taken.
Casinomeister is not the only forum where the debate over Roshtein's slot streaming has taken place. With the subject generating lots of interest over at the Gambling Community and Casino Grounds forums.
Streaming of slot play is a subject and area that divides opinion, with many people of the view that it encourages reckless gambling and as such the activity should be curbed. Likewise, video platforms such as YouTube have over the past 12 months taken a dim view of the activity, with countless channels owned by streamers being unceremoniously shut down.
However, the activity obviously has considerable support, with several of the more popular channels having accrued millions of views and tens of thousands of subscribers.
So far, there has been no public word from Roshtein himself with regards the method of his slot streaming, which has caused so much debate over the past few days.