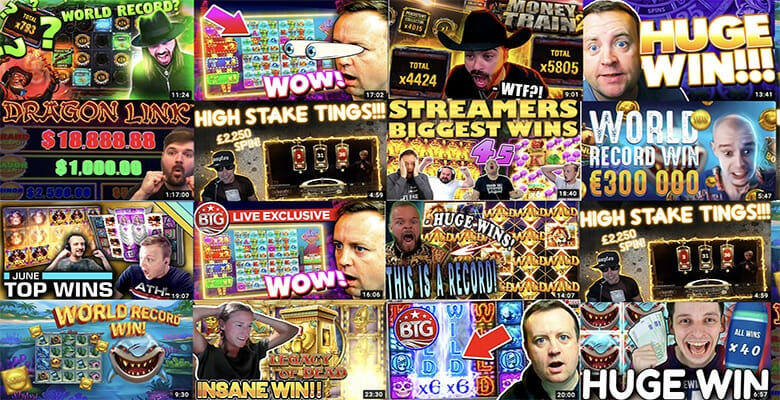 Latest Gambling News
Are Slot Streamers a Threat to the Online Casino Industry in the UK?
Boasting life changing wins and highlighting bank busting bet sizes, are streamers and their actions a cause for concern?
Boasting life changing wins and highlighting bank busting bet sizes, are streamers and their actions a cause for concern? With numerous slot streaming channels on YouTube making untold big wins seem possible to the average 'Joe'. In turn offering ammunition to those people who desire over regulation in the UK?
A lot over the past couple of years has been made of responsible gambling and measures that operators have to put in place to enable players to control their level of gambling.
Indeed regulators such as the UKGC should be applauded in ensuring their licensees afford players the ability to be able to set deposit limits and to take a break from a gambling property as and when needed.
However, there is a growing groundswell of opinion forming within a section of society who wish for nothing better than the iGaming industry in the UK to be snuffed out like a candle. Case in point being, the recently reported monthly loss limits being mooted and suggested in the mainstream media and talk of introducing maximum bet limits on online casino games.
This talk and the actions of the UK regulator to come down on operators breaching their ever hardening rules and regulations, which sees 7 figure fines being handed out, has caused many operators to close up shop and leave the UK marketplace.
Furthermore, should the Gambling Act in the UK get amended so as draconian loss limits and bet stakes become the norm, then this in turn will drive sensible responsible players to the open arms of those operators which are based in unregulated territories. This is a lose lose scenario and in my opinion slot streamers and those that put them on a pedestal up high are helping this to become reality.
Gambling on Slots is not a Road to Untold Wealth & Riches
But this is what the owners of these popular slot streaming channels would want you to believe. Yes they may dutifully have their 'Over 18' badges and a courtesy 'BeGambleAware' logo in the corner of their videos, but the very idea behind their 'streams' is to entice players in. Enticing them in, on the belief that they too could enjoy and hit 'world record wins'.
Indeed being a successful slot streamer has over the past four years been proven to be a lucrative business in its own right, so much so that online casinos have even got in on the action.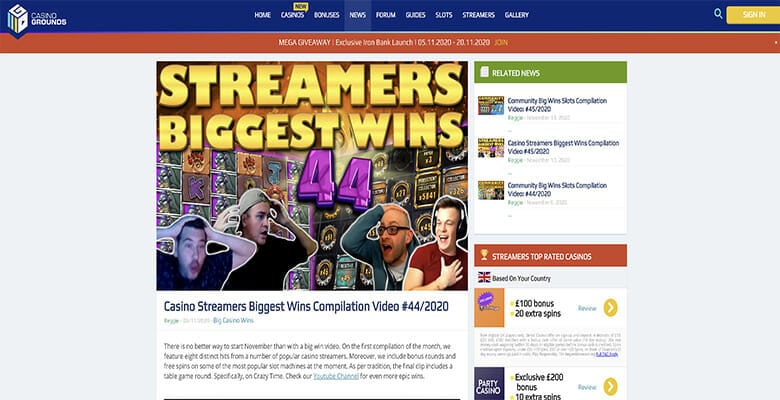 Case in point the online casino LeoVegas investing in the streaming community that is CasinoGrounds, to the extent that LeoVegas snapped up 51% of the shares in the company behind CasinoGrounds at the end of 2017.
Interesting that an actual online casino would invest in an actual streaming community, highlighting bank busting paying wins. Why would they do this exactly, if it were not proven that the actions of streamers in showcasing their life changing wins on YouTube and the such like actually brought in FTD's a plenty!
And this is my point, you may have heard the term 'fishing' and 'fish' when it comes to playing poker online, well this is  exactly what streamers are doing. Fishing for a captive and often gullible audience on YouTube, hence their over-exaggerated persona on their videos, making the illusion that their massive wins are the norm and not the exception.
Now no doubt I am hearing people collectively scream at their respective monitors "You are writing for an affiliate site! How hypocritical", and yes in part they would be right.
The difference is, as a player of some 10 plus years and also having worked within the iGaming industry for the same length of time, I actually have the players and also the industry's interest at heart. Hence why for example here on Casino Gazette and also our sister site Casinomeister, you will find  countless pages upon pages of information, pertaining to players.
This includes how to ensure that they gamble responsibly and also provides details of the responsible gambling tools available to equip them to do so.
Also and this is a very real important caveat, the actions of this website do not fuel the desire of those that wish to curtail the activities of the iGaming industry within the UK. Unlike the slot streamers, who bet at massive unrealistic amounts, going for broke to attain the next 'world record' win. This leads me onto my next point….
Do Streamers actually use their own Money?
This is a question that has been asked by many over the course of the past few years since slot streaming became mainstream. Do slot streamers actually use their own money?
Here on Casino Gazette in August of last year we reported on the fact that a site on the internet 'outed' the popular Fedora wearing Roshtein as a fake, whereby he allegedly exposed himself using 'demo money'.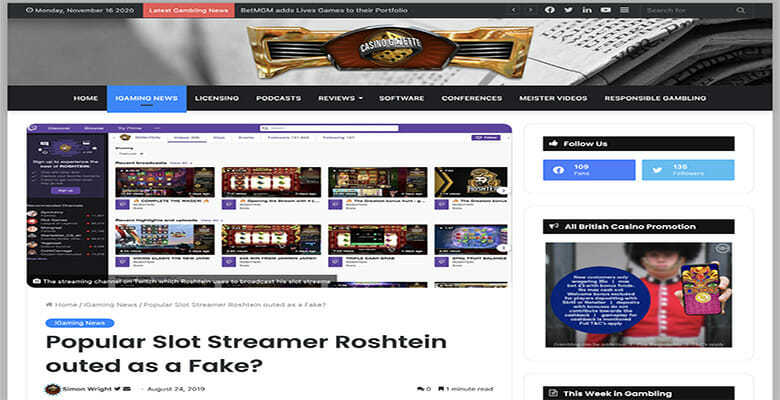 According to a site called Legends of Gambling, Roshtein inadvertently exposed himself using fake money. The site and post in question quickly disappeared, but not before the news of this development spread across gambling social media pages and websites including of course Casino Gazette.
Regardless of not whether the assertion made by Legends of Gambling is true or not, is in fact not relevant. What is relevant though is whether the slot streamers do indeed fund in their entirety the bankroll that they play with.
Putting aside my own personal view to one side, which is formed based on many many years as a player of slots online. I will in turn though reference a very good piece on this subject published by The Pogg.
In an article titled "Are Slot Streamers Playing with their own Money?"  which you can read in full here, The Pogg dug a bit deeper into the numbers in play. Forming the opinion that there are three possible answers and scenarios to the question posed.
Namely these are:
The streamers are independently wealthy and simply using the affiliate referrals to offset their losses somewhat. I would question the likelihood of this. It seems unlikely that someone with a large bank balance is going to want to spend time filming themselves playing video slots for such extended periods of time.
These streamer are quickly going to bankrupt their businesses as it seems almost certain they will be losing large amounts of money playing this way.
Losses are being offset for streamers significantly by the casino operators.
With The Pogg pretty much ruling out the first two options……
Getting Twitchy about leaving the Twitch Platform
YouTube of course is not the only platform that has been utilised by streamers to showcase their slot action on. Indeed, due to various culls of slot streaming channels in the past by YouTube, streamers setup shop on the alternative Twitch platform.
From 1st October 2020, as part of the UK Gambling Commission's updated LCCP ( Licence Conditions and Code of Practice ), the streaming of casino games by licensed UKGC casinos and or their affiliate partners on Twitch was banned.
By continuing to do so, would be a breach of the LCCP which all licensed UK operators have to adhere to. Yet, many high profile streamers, showed yet again their complete disregard for the compliance and regulations set down by the UK's regulator.
With one such high profile streamer taking to twitter on 29th September, just two days before the updated LCCP came into force, stating the following in a video message: "The new regulations say you cannot stream on Twitch anymore for casino streamers."
"This is for only certain casinos, so it makes absolutely no sense for me to completely stop twitch."
Ignorance of the current regulations is not a defence and by not complying and continuing to stream on twitch, further adds ammunition to those who want draconian measures applied to the UK Gambling Act.
In short, the actions of this particular streamer for example, affects all of those who are involved in the UK iGaming industry. Whether an operator, affiliate, software studio or indeed player. With player's enjoyment possibly being curtailed due to the actions of streamers.
The latest UKGC updates to the LCCP and effects thereof.
The YouTube Channel Dazza Gee has put together this informative video below concerning the updates to the LCCP which came into force at the beginning of October 2020. Well worth your time watching, especially if you work within the iGaming space producing video content.
Dazza also covers the now required Age Gating of said video content on YouTube, which alas streamers targeting the UK must now do, since 1st October 2020.
But this in itself poses a question, what if the advertiser or channel offers gambling to multiple jurisdictions including the UK?
If they age gate, they subsequently lose 95% of their YouTube ad revenue so why would they age gate just to satisfy UK rules and regulations, when they are not obliged to under most jurisdictions?
If they don't ( Hello CasinoGrounds! ), then how do they ensure no one in the UK sees their ads for online casinos and in turn not be able to sign up? This is a very important question I would love to know the answer to!
Compliance has to be adhered to
Summing up, yes this article may come across as open season on slot streamers and their ilk. Personally, I prefer playing myself and don't get enjoyment out of watching other people play slots online.
Each to their own though I guess and I am all for personal freedoms. Hence I am rather 'annoyed' that the actions of a lot of streamers, could bring the equivalent of the ban hammer down onto the iGaming Industry.
My beef for want of a better word, is with the negative actions many streamers undertake that could and can threaten the iGaming industry in the UK. As a player, I would be well 'miffed' if I was limited for example to a maximum bet stake of £2. As for having monthly loss limits imposed……
I also am a strong supporter of responsible gambling and the many utilities out there such as BetBlocker, which help those who may have a problem. In my own humble opinion, many of the high profile streamers are akin to snake oil salesmen. After all why would you employ "Who Framed Roger Rabbit" type eyes to your video thumbnail?
Whether you are an operator, software studio, affiliate, or streamer, adhering to and keeping up with the current regulations and LCCP employed by the UKGC is imperative. To ignore it, do so at your peril, as your actions can have a wide ranging affect on everyone…