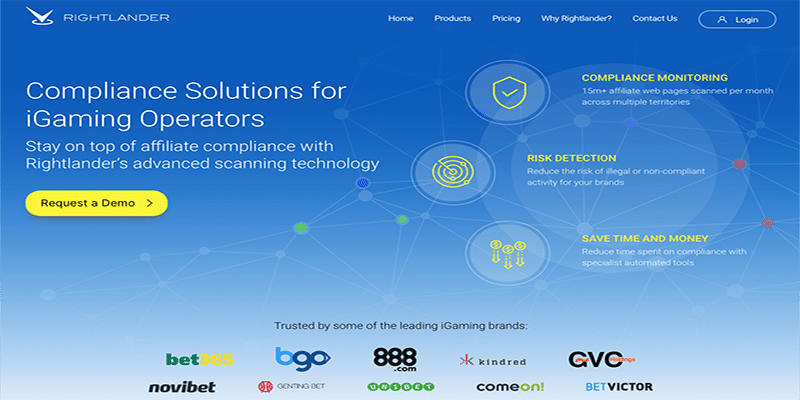 If you are an operator working in the iGaming space or indeed an affiliate working in the online casino industry, then Rightlander and the services they provide is the solution for you, if you want to ensure your site and business remains compliant, in the licensing jurisdictions that you operate in.
Rightlander provides clients with bespoke compliance alerts, scanning the internet to ensure your brands stay compliant across multiple jurisdictions. Employed by numerous high profile iGaming operators, to ensure their affiliate partners adhere to their terms and conditions, Rightlander is regarded as a leader in the field, when it comes to iGaming compliance.
The award winning compliance tool, Rightlander currently operates ina multitude of countries and territories. Including all of Europe, Scandinavia, all US States, Australia, Russia, Bulgaria and Greece. Enabling their clients to reduce the amount of time spent on ensuring compliance, thanks to the automated suite of tools provided by Rightlander.
Over the past 12 months Rightlander has expanded to cover more countries and also have extended the range of services that they offer operators. The most recent countries covered include Bulgaria and Portugal.
Acknowledged by their industry peers as rightly one of the leading iGaming compliance specialists, Rightlander has won or been nominated for a number of iGaming recognised industry awards. These include Rightlander founder Ian Sims receiving the iGB Affiliate Award 2019 for Outstanding Contribution to the Industry.
The clients that Rightlander already have on board,  including the likes of Kindred that own and operate 32Red and Unibet and software developer Playtech,  further demonstrates  the standing of Rightlander's compliance services that the company provides.
Interview with Rightlander Founder Ian Sims
On the 25th August 2020, our sister site Casinomeister published an interview with Rightlander founder Ian Sims, with Ian going into details as to how and why Rightlander came into being. With Rightlander now regarded in the iGaming industry as the leading compliance specialists.
The interview with Ian on Casinomeister can be accessed here: Interview with Ian Sims.
Rightlander Demonstration
For a demonstration of Rightlander and to see if it is the right fit for your compliance needs, visit the site by clicking here.