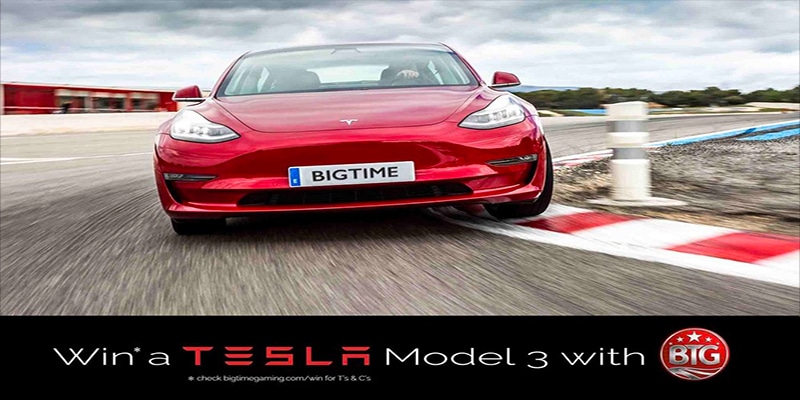 Casino games developer Big Time Gaming are offering players at all casinos that feature their game content the opportunity to win a brand new Tesla car.  The car on offer is a model 3 Tesla, which has a range in excess of 300 miles on a fully charged battery, acceleration of 3.2 seconds for 0 – 60mph and is worth just under £38,000.
Between now and the end of November 2019, Big Time Gaming will be tracking the biggest bet multiplier win across all of their games featured with their casino partners, with the biggest winners going into a the final prize draw.
In total the five players who have the biggest bet multiplier wins will feature in the draw to have a chance of driving away the Tesla Model 3. There are also additional prizes up for grabs, with Big Time Gaming putting up an astounding 8K television and 3 lots of €1,000.oo cash prizes.
The competition which started this month, will see the winners of July, August, September, October and November battle it out in the final draw, to see who wins the top prize of the Tesla car.
The final date of the competition is the 30th November, with the prize draw set to take place at the beginning of December.