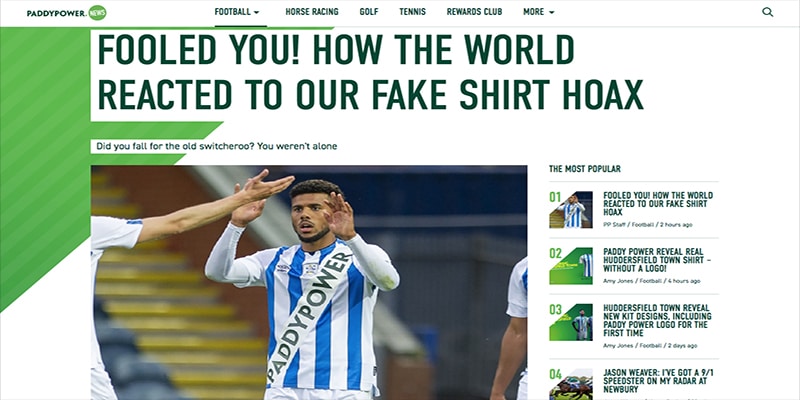 Whether it is a case of obtaining more publicity, which considering it is Paddy Power, one should not be surprised, but Paddy Power's own news site this morning is reporting that the Irish Bookmaker is to commence a campaign for gambling firms to stop advertising on football shirts. With the campaign titled "Save our Shirt"
Well if this is the case and whilst a nice moral stand and viewpoint to take ( but not new, as GVC Holdings started the ball rolling on this one ), it is somewhat surprising as only last week, Paddy Power announced a shirt sponsorship deal with Huddersfield Town.
Now whilst Huddersfield Town are no longer plying their trade in the Premier League, they are, at least they were the last time we looked, a football team that play in the Championship League.
Stop the Press – Save our Shirt!
But stop the press! It transpires that Paddy Power are indeed deadly serious about this matter, with the sponsorship of Huddersfield Town being a stunt. Yes, they have sponsored them and agreed to pay the football club for the privilege, but the Terriers will be playing without a logo on their shirts. Their shirts will indeed be sponsor free.
With the Irish Bookmaker revealing that the publicity last week surrounding the sponsorship of the Terriers was generated to kick start their 'Save our Shirt' Campaign.
Paddy Power's Victor Corcoran, who is the Irish Bookmaker's Marketing Director, said: "Shirt sponsorship in football has gone too far; we accept that there is a role for sponsors around football, but the shirt should be sacred."
"So today we are calling on other sponsors to join the Save Our Shirt campaign, and give something back to the fans. As a sponsor, we know our place, and it's not on your shirt."
Fair play Paddy Power, you had at least one of us going here at Casino Gazette! Top darts as they say!