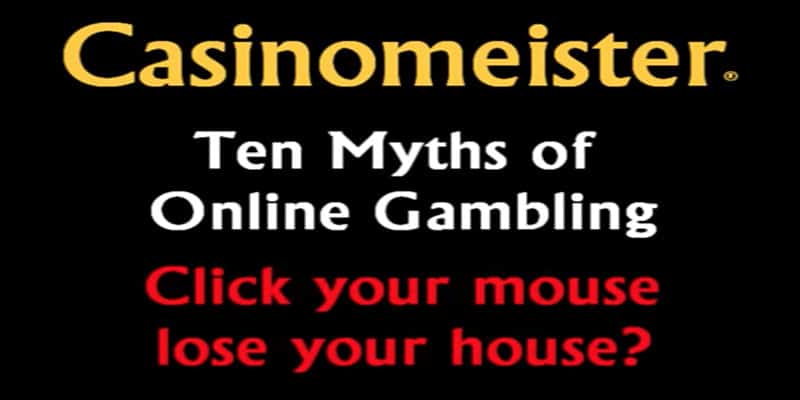 Published on 26th February 2016, this Casinomeister Webcast is still a worthwhile watch even now. As the Casinomeister busts ten myths of online gambling.
Is it legal? Are there crooks involved? Does it sponsor terrorism? Find out as Casinomeister explains the ten most popular myths of gambling at online casinos.
1:33 Myth #1: Online gambling is illegal.
Online gambling is legal in Europe as well as in the USA.
3:22 Myth #2: Online gambling encourages underage gambling.
Oh really? Actually, online gambling controls underage gambling more than off-line. Don't believe me? Then watch.
4:30 Myth #3: Click your mouse, lose your house.
Yeah, right. Many casinos set limits to your gambling. They can even notify you when you have been playing for a lengthy period of time. When has a casino host in Vegas mention to you that you've been spending too much time at the tables? That would never happen.
5:18 Myth #4: Online casinos don't pay.
The right ones do – the bad ones don't. Just like in real off-line life.
6:03 Myth #5: All casino games are rigged.
They are rigged just as much as they are in Vegas or Atlantic City. Don't believe me? Watch the video.
6:40 Myth #6: You need a bonus to win.
Sure thing – for the casino. Bonuses trap you into a wagering limit that is just about guaranteeing a house win. Habitually taking bonuses is a sure fire way to becoming a loser.
7:20 Myth #7: The casino operators are all crooks.
Crooks are everywhere, right?
8:33 Myth #8: Online casinos are licensed by offshore tax havens.
This may have been true in 1999, but times have changed. Online casinos for the most part are regulated and taxed. No havens there.
9:54 Myth #9: Online gambling is run by terrorist organizations who launder money.
Who ever came up with this is an idiot.
10:37 Myth #10: The house always wins.
Do you really believe this myth? Watch the video and find out the truth.