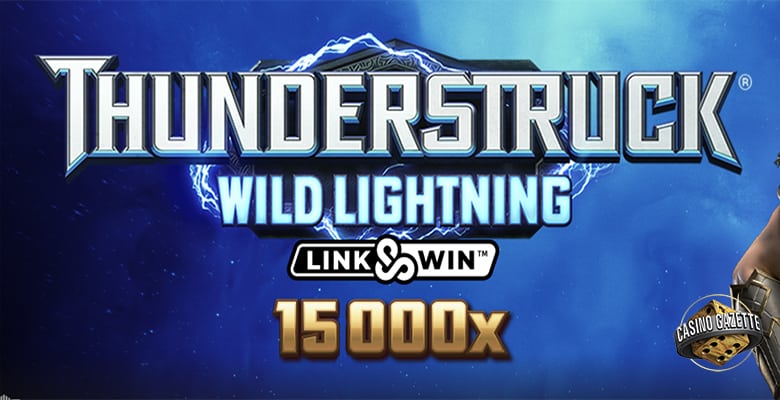 Latest Gambling News
Thunderstruck Wild Lightning
Cult Slot Classic Thunderstruck to receive a reboot with the release of Thunderstruck Wild Lightning set for the end of July 2021

For those of you that have been playing online casinos since the advent of the 'noughties', you will have no doubt come across the Microgaming powered Thunderstruck Slot which hit the MGS Viper download casino client way back in 2003.
Thunderstruck proved to be so popular with players, that during the 2010 ICE show held at Earls Court, fans in attendance made a direct beeline to the Microgaming stand, where teasers of its sequel Thunderstruck 2 were shown.
The game engine powering Thunderstruck 2 proved such a hit with players, that it has been used countless times, most noticeably with the splendid Immortal Romance ( another game that Igesund was instrumental in working on ).
Well, thanks to an exclusive interview with the lead visionary behind Stormcraft Studios, Terence Igesund, published Friday just gone on our sister site Casinomeister, which can be read in full here, it has been revealed that the reboot of Thunderstruck or I should say Thunderstruck Wild Lightning, goes live at the end of July next month!
Thunderstruck Rebooted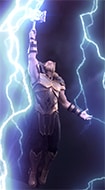 To reassure fans of the original Thunderstruck and its 2010 sequel fondly known as TS2, Thunderstruck Wild Lightning's development has been led by Terence Igesund from Stormcraft Studios.
Igesund of course was very much involved in the development of the first two Thunderstruck slot games.
In addition to working on the original Thunderstruck, Igesund has a sold track record having worked for Microgaming for some 20 years plus in the past.
That well known progressive jackpot game Mega Moolah, well that is just one example of  Igesund's handiwork!
If you are expecting Rams galore and 243 paylines, well you will find none of these are here in Thunderstruck Wild Lightning.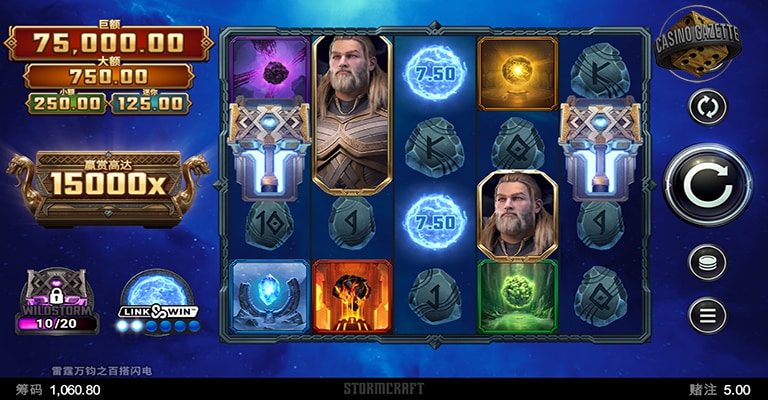 Instead this incarnation of Thunderstruck is a 40 payline high volatile beast of a slot game, that incorporates stellar quality graphics and animation, a stunning soundtrack and based on my own personal experience, hours upon hours of entertaining gameplay.
Working for both Casino Gazette and also Casinomeister, I was one of the lucky several dozen individuals to be invited by Microgaming to take part in their pre-launch slot tourney of Thunderstruck Wild Lightning. A tournament where casino sites and operators who work with Microgaming were able to compete in a best multiplier tourney.
Alas this review is still being written whilst said tourney is ongoing, I am currently lying in the top 20 just, out of a field of over 70 with a couple more days left to run, but my balance has now been exhausted. But it was immense fun while it lasted.
So onto the various features and how Thunderstruck Wild Lightning plays, so grab a drink, maybe a bite to eat and read on…..
Link & Win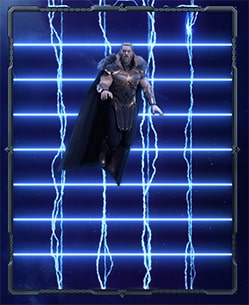 There are two separate bonus round feature games to be activated in Thunderstruck Wild Lightning, the first are multiple free spin rounds, which I will touch upon in a moment, but the new feature that no doubt will catch your eye, is the Link & Win feature.
In play in the game is the 'Thunderball' symbol which also depicts a monetary amount. Hit six or more of these symbols on any of the 5 reels in play and this activates the Link & Win bonus feature round.
The triggering Thunderball symbols are held in play when the Link & Win bonus feature round commences.
You are then provided with three opportunities to hit additional Thunderball symbols, each featuring a cash prize.
You can then unlock additional rows by landing these Thunderball symbols, with each higher row offering higher cash prizes.
The Link & Win bonus feature round stops when either you run out of spins ( These are reset to 3 each time you hit a new Thunderball symbol ) or you have filled the entire board with Thunderball symbols.
The potential maximum prize you can win is 15,000 times your bet stake. This is achieved by populating all sections within the Link & Win board.
When the Link & Win feature completes, all the Thunderball symbols are totted up at the end of the feature, thus providing you with your win from playing the feature.
Free Spin Rounds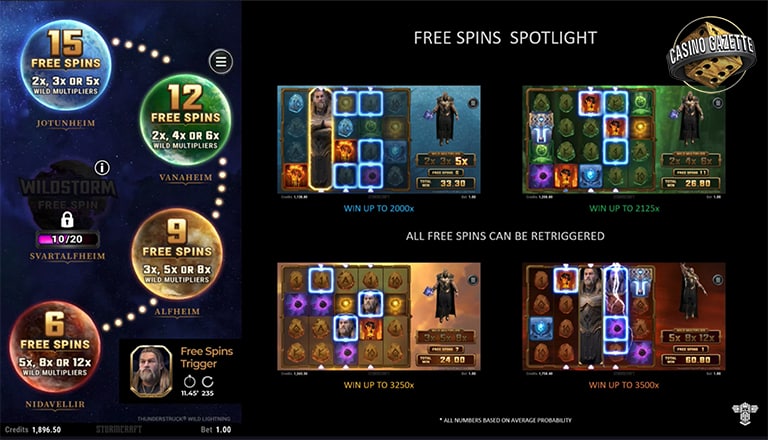 Like its predecessor Thunderstruck 2, Thunderstruck Wild Lightning offers a multiple selection of free spin bonus rounds which are awarded when you hit three or more hammer scatter symbols.
The four free spin rounds on offer to choose from are:
JOTUNHEIM – 15 free spins with wild symbol multipliers of 2x, 3x or 5x.
VANAHEIM – 12 free spins with wild symbol multipliers of 2x, 4x or 6x.
ALFHEIM – 9 free spins with wild symbol multipliers of 3x, 5x or 8x.
NIDAVELLIR – 6 free spins with wild symbol multipliers of 5x, 8x or 12x.
Players start off only being able to play Jotunheim, with Vanaheim, Alfheim and Nidaveller being unlocked once you have been awarded and played the subsequent free spin game five times previously. Again very similar to how the bonus free spin rounds operates in Thunderstruck 2.
All free spins bonus rounds can be re-triggered and getting such a re-trigger is key to obtaining a bank busting bet multiplier win.
Now the potential for big wins, up to 15,000 times your bet stake are there, but I must profess having played the slot solidly over a two day period the biggest win I achieved was just shy of 137x.
That said I did see a player hit a 895x win whilst having the privilege to take part in the slot tourney that Microgaming kindly set up for us!
Enter the Wild Storm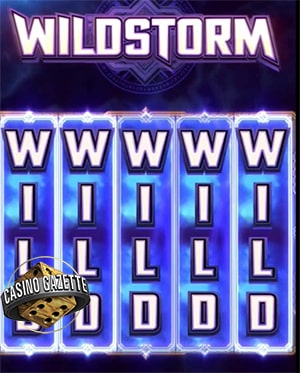 Stormfront Studios have brought back the Wild Storm feature in the reboot of Thunderstruck, which is unlocked by hitting two Thor hammer scatter symbols 20 times in regular game play.
When you have finally unlocked  Wild Storm, it can then be chosen once three or more scatters are hit and thus activating the free spin bonus round.
A potential win of 8,000 times your bet stake can be won during the wild storm feature, whereby up to all five reels are turned into wild symbols.
Once you have used your unlocked Wildstorm feature, it then becomes locked once again, until unlocked after two scatter symbols are hit a further subsequent 20 times.
Igesund in being interviewed about the development of Thunderstruck Wild Lightning confirmed that bringing back Wildstorm which appeared in TS2 was of personal importance to himself.
Overall Impression
Eleven years on since the release of Thunderstruck 2, Thunderstruck Wild Lightning is a reboot of the Thunderstruck  slot and Igesund at Stormcraft Studios does not consider it as such as the third instalment in the series.
With well produced in-house soundtracks, with the actual lyrics to them written and composed by Igesund himself, great 3D animation and graphics, Thunderstruck Wild Lightning should pique the interest of the die hard fans of the original and 2010 sequel.
Additionally, for those players who were not around back in the day when these games came out, Wild Lightning should invariably be a hit with these players too.
With a dedicated initial exclusive release with the Gamesys Group of online casinos starting from the last week of June. Thunderstruck Wild Lightning is scheduled to go live across all casinos which carry game content from Microgaming on 27th July 2021.
I would argue, it is already a shoe in for most popular if not best new slot game of 2021.
With lots of features, high volatility and an RTP of just over 96%,  this game has something for everyone.
When Thunderstruck Wild Lightning goes on general release on 27th July 2021, it will be available to play on all these Casino Gazette recommended online casinos listed below, which carry game content from Microgaming.
[table "1" not found /]