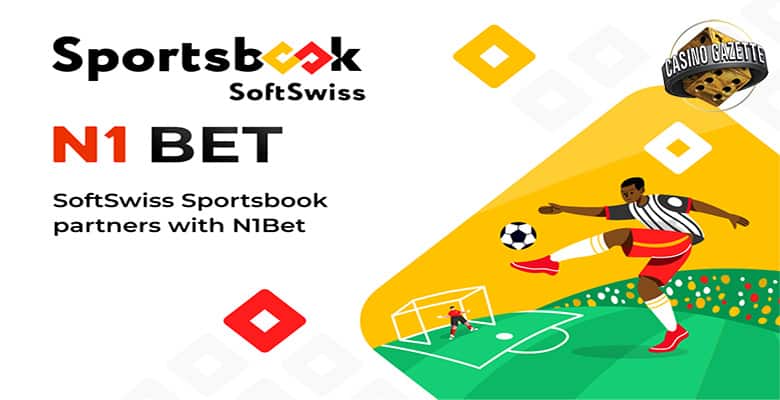 The SoftSwiss Sportsbook is excited to announce the launch of the new betting project with N1 Group this June. The new project is N1Bet Sportsbook, the second in a row SoftSwiss Sportsbook project with an initial focus on sports betting.
This further establishes Sportsbook as a valued solution on the iGaming market, as clients are increasingly making their decision in favour of the SoftSwiss Sportsbook in their projects.
This marks the second project which will be powered by the SoftSwiss Sportsbook sports betting module in just less than a month after announcing the release of the CricketBet project on May 20th.
This sets a new trend for brands going for exclusive sports betting projects, considering the betting industry being currently on the rise. This is also just in time for a summer period filled with massive sporting events, like EURO 2020, which officially began last Friday. 
The new project between N1Group and SoftSwiss will provide a standard sports betting platform package, which includes more than 10,000 live events of over 70 sports and 1200+ various betting markets. 
The users of N1Bet will be able to benefit from an extremely smooth and user-friendly interface, created with players in mind. Players will be able to enjoy a special mobile version, since most bets are currently made on smartphones. 
According to the deal, all of the newly-added features will also become available including three types of free bets, five bettings odds types for international players, as well as Сomboboost. 
Alexander Kamenetskyi, Product Owner at SoftSwiss Sportsbook, noted: "This is our second client in a row with an initial focus on the sports betting solution and we cannot be happier."
"The sports betting industry is rapidly growing and the SoftSwiss Sportsbook is evolving with it. We are always keeping an eye out on new trends and features both for our clients and players, striving to deliver the most innovative solution out there."
"We're beyond happy to be partnering with N1Bet and embarking on this exciting journey with them. Here's to long-lasting and productive cooperation!."
The N1Bet team commented on this new partnership: "The entire N1Bet team is excited to be launching this brand-new project alongside one of the leading iGaming software providers – SoftSwiss."
"As the sports betting market keeps growing exponentially, we've decided it was a great moment in time to establish our own project which is fully dedicated to sports betting."
"We're ecstatic to see where this new adventure brings us next and cannot wait to begin!"