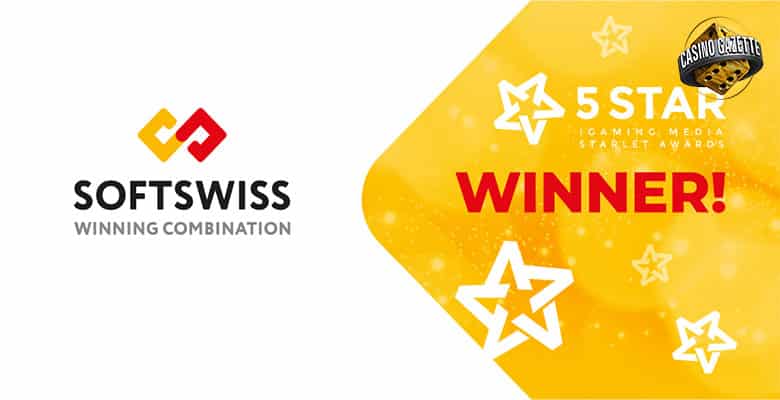 Latest Gambling News
SOFTSWISS Wins Two Nominations at the Starlet Awards
SOFTSWISS has been awarded Best Customer Service of the Year and Game Aggregator of the Year at the Starlet Awards 2021
On 29 October, the prestigious Starlet Awards honoured the best B2B service providers in the gaming segment. SOFTSWISS reaffirmed its status as a leader in the iGaming industry by being named Best Customer Service Company of the Year and Best Game Aggregator of the Year.
The Innovation, quality, and flexibility in customer service, as well as the reliability of the solutions offered were the main criteria used to select the winners. 
This year is not the first time that the iGaming industry recognizes SOFTSWISS' merits and status. In addition to the Starlet Awards, in September the company won in the category Best Customer Service Company of the Year at the IGA Awards.
SOFTSWISS was also nominated as the best technology and software provider for iGaming several times.
Ivan Montik, founder of SOFTSWISS, comments: "We are delighted to have won another rightfully awarded prize for the best customer service in the industry."
"This is a totally deserved victory, based on the company's unshakable philosophy: SOFTSWISS clients have to receive the highest level of service and first-class technological solutions to maximise their profit."
"We see that the customer service provided by SOFTSWISS is setting the bar in performance and quality assurance for the entire gambling community. "
"In our portfolio we have products, for example SOFTSWISS Online Casino Platform, that are well known in the iGaming industry and recognised by the professional community."
"But it is just also important for us to see that SOFTSWISS' other products, such as the fast-growing SOFTSWISS Game Aggregator, are also in the top positions as proven by winning the Best Game Aggregator of the Year nomination."
"The leader status obliges us to maintain high quality standards, motivating and spurring us on to development and innovations."
"After all, we are not only setting the trends for ourselves, but for the entire iGaming industry."