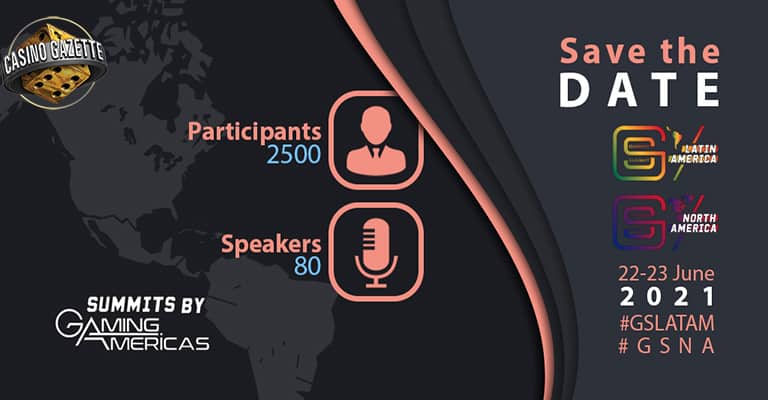 Latest Gambling News
Gaming Summit North America
Happening next week on 22 June 2021 - Gathering of Gaming Leaders
The team at Hipther Agency are excited to announce the final agenda for the upcoming Gaming Summit North America that will take place on 22 June and will be complemented on 23 June, by Gaming Summit Latin America.
The conference series is Gaming Americas' flagship event in the Americas and was previously titled "Sports Betting & Casino Summit North America", and complements the Gaming Americas Quarterly Meetups.
As mentioned above, Gaming Summit North America gathers top C-Level Executives for a day of quality learning and engaging discussion about the gambling industry in North America.
The conference will target compliance updates from the West Side and East Side of the US, will feature the special ongoing series of talks with Chantal Cipriano about the Canadian gaming industry, and will also include discussions about Responsible Gaming, Fintech and investment tips from the top investors of the gaming industry in North America.
The registration is free and the conference already attracted 1.5k registrations. So, if you haven't yet registered, make sure you get in on the list to receive the login details. Register here!
Here is a short preview of the panel discussions:
(East Side) US Legislation Round-up
The Gaming Gold Rush has to consider the implementation of Responsible Gaming measures
The Canadian Gaming Industry Updates with Chantal Cipriano
Focus on Yahoo Sports' sports betting strategy in North America
(West Side) US Legislation Round-up
Innovative payment technologies and the regulators catch up
M&A, Making of Unicorns and how VCs are reshaping the future of the sports betting industry
Among the leading speakers you can find:
Laila Mintas – CEO at PlayUp US
Ryan Butler @ Action Network
Chantal Cipriano – Senior Director, Legal & Compliance at Mazooma
Adrianna Cuccinello – VP, Online Gaming & Compliance Operations – US at Maxima Compliance
Lloyd Danzig – Founder & Managing Partner at Sharp Alpha Advisors
Andrew Crowe – SVP of Business Development at Sightline Payments
Rich Roberts – Non-Executive Board Member with Webis Holdings PLC
Bill Pascrell, III – Partner at Princeton Public Affairs Group, Inc.
Martin Lycka – SVP for American Regulatory Affairs and Responsible Gambling, Entain
Keith S. Whyte – Executive Director of the National Council on Problem Gambling (NCPG)
Tammi Barlow – Director of Responsible Gaming and Corporate Social Responsibility at Caesars Entertainment
Wendy Anderson – Chief Executive Officer at RG24seven
Neil Erlick – Chief Corporate Development Officer at Nuvei
Geoff Reiss – GM of Yahoo Sports
Sarah Crennan – VP & Head of Content at Yahoo Sports
Minty Bets – Yahoo Sports' lead betting reporter and analyst
Elizabeth Suever – Vice President of Government Relations at Bally's Corporation
Daniel Wallach – Founder at Wallach Legal LLC
Wayne Kimmel – Managing Partner at SeventySix Capital
Matt Davey – President & CEO at Tekkorp Capital LLC
Daniel Bernard – Investor and General Partner at Mindspring Capital
and many more…