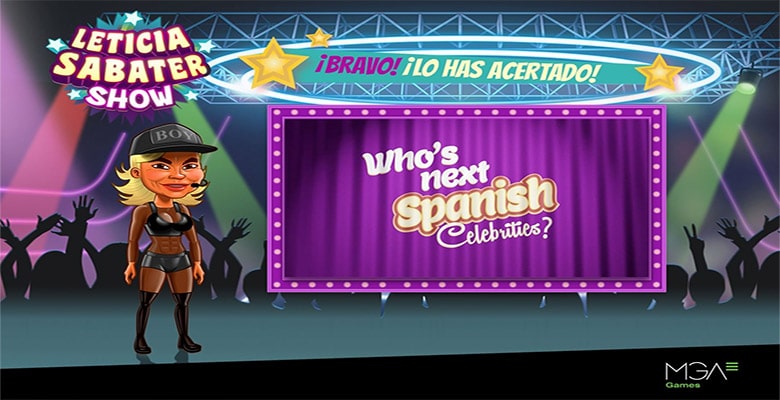 Latest Gambling News
Leticia Sabater unveiled as Latest Celeb to Promote MGA Games
MGA Games pull a surprise by unveiling Leticia Sabater as one of their new Spanish Celebrities with an online campaign
MGA Games have dazzled its operators with a unique and unprecedented online identity reveal of the new face for its range of Spanish Celebrity slots.
As part of a creative and original introductory campaign, the national operator partners of MGA Games have today received a very special message from Leticia Sabater, the star of the campaign and new game that launches in August.
The slot, Leticia Sabater Show, promises to be another top seller for MGA Games. Video from the Spanish Celebrities, Leticia Sabater, dedicated to all friends of MGA Games.
The operator partners of MGA Games have been the first to find out that the most recent new face for the Spanish Celebrities series, which comes out on 24 August of this year, will be none other than the charismatic singer and former presenter Leticia Sabater.
Aware of the setbacks and distance limitations imposed by the current situation, MGA Games has opted for launching a creative online campaign where the operator is challenged to complete a series of questions to decipher the name of the new star of MGA Games.
It's a quiz in which the operator becomes a "contestant" and using only their knowledge and their mettle as a true "Spanish Celebrities Expert", they are able to find out before anyone else that Leticia Sabater is one of the new faces of Spanish Celebrities from MGA Games.
In order for the operators to get the award, they are required to answer questions, follow clues and show that they know the company's games inside-out. If they succeed, they will be rewarded with a personalised video message from the artist, dedicated to each of the operators, to the sounds of her summer song "Vete pal carajo tra tra".
An original and fun idea, which as usual for MGA Games' presentations, took all by surprise. "From the outset we were certain that we wanted a fun, exclusive and personalised experience for each of our operators," comments Joan Sanahuja, CEO of MGA Games. "It's part of our philosophy of indulging, listening to and surprising our customers." he explains.
Reactions to the new campaign have been coming thick and fast, and MGA Games commented that "this morning we've received dozens of calls and messages congratulating us on the campaign, especially its light-hearted and cheerful tone. We've been told it's a real breath of fresh air'… " adds Joan Sanahuja.
As well as getting her summer hit out there and heard by all, last week Leticia Sabater was also revealed as the eleventh contestant on the Mediaset reality show La casa fuerte. I
t's part of a whole summer of achievements for Leticia, culminating in the launch of the Leticia Sabater Show on 24 August, which promises to no doubt be another of the brand's top sellers. To sum up, MGA Games's latest recruit will certainly be making her presence felt this summer.