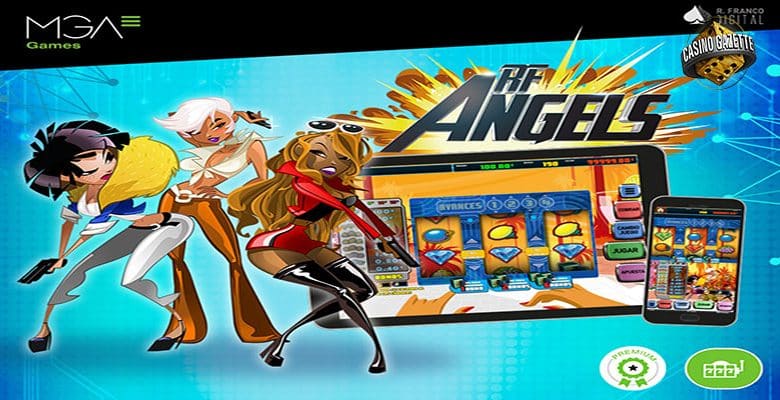 The strategic union between MGA Games and R Franco continues to give great results with the latest release of RF Angels, a new online version of the classic land-based game.
R Franco first launched the popular B land-based machine in 2016, which, since then, has gone on to be a great success with high profitability rates. MGA Games, a benchmark developer of localised online slot games, has now made the online version of the game available to all Spanish players.
MGA Games has reproduced perfectly the design and essence of the original land-based machine game based on the characters of the popular series Charlie's Angels. In this slot game, the three intrepid protagonists go on risky adventures full of glamour, adrenaline, cutting-edge technology, and non-stop action.
RF Angels is the third game, following Santa Fe Mix and Gnomos Mix, to emerge from the productive collaboration between MGA Games and R Franco.
In addition to these games' many features and classic themes is the Triple View technology that MGA Games uses to achieve a 100% mobile responsive product playable on any device anywhere.
Whatsmore, the company has created specific mathematics for R Franco games and has customised the slot game's button panel to resemble the land-based machine with its Advances, the Auto button, the Retention button, and the Autoplay button that activates the auto-mode button.
The slot game also includes 5 fun mini-games (1 in the lower screen game and 4 in the upper screen game) full of great prizes for players, and they are accessed randomly when a player gets certain pay lines.
In the mini-games, users find everything from armoured boxes full of gold, to cocktail parties full of jewels, shooting ranges, theft of paintings and many treasures to discover.
Among other notable features in this medium volatility, 3-reel slot game is the option to choose from two languages (Spanish and English) and the opportunity to get extra spins in non-winning plays in the lower screen game.
RF Angels launched exclusively a few weeks ago in Sportium, Pastón, Bwin, Goldenpark, and Wanabet with terrific results. And as of July 25th, it will be available for all MGA Games partner casino platforms in Spain.