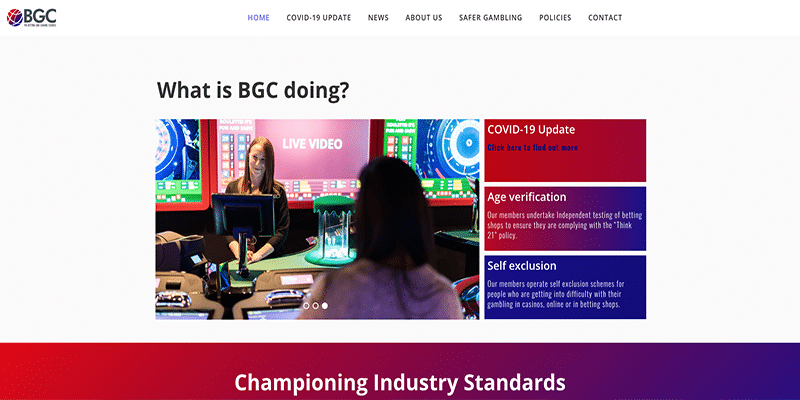 The UK's Betting and Gaming Council ( BGC ) have introduced a 10 pledge action plan that all their regulated members ( which include the likes of bet365 and GVC Holdings ) have agreed to adhere to.
The pledge action plan has been introduced partly in response to the current global Coronavirus / Covid-19 pandemic, with one of the aims being to clamp down on affiliates who are using the pandemic to attract traffic to their sites.
The BGC in a notification placed on their website which can be viewed in full here, stress the pledges that regulated members will adhere to, build on actions and interventions that they have already taken, to improve safer gambling operations.
The 10 pledges in their entirety are:
Increase safer gambling messages across all sites and direct to all customers
Step up interventions if customers increase time and spend beyond normal pre-crisis patterns
Actively promote deposit limits
Action to ensure appropriate and responsible advertising including monitoring volume
Report all illegal, rogue advertising from black market online operators
One-strike-and-you're-out policy where affiliates breach pledges
Signpost help to GAMCARE and the National Gambling Helpline and GamStop for self-exclusion
Commitment to ensuring funding for Research Education and Treatment (RET)
Welfare checks and well-being help for staff
Supporting the Government's 'National Effort' with volunteers and facilities
Commenting on the introduction of the 10 pledge action plan, the BGC's Chief Executive Officer, Michael Dugher, stated: "In this time of national crisis, with so many people self-isolating and social distancing at home, it is vital that we do everything possible to ensure safer gambling and to protect potentially vulnerable or at risk people."
"We all know that levels of gambling have plummeted not just because of betting shop or casino closures, but because of the absence of sport, which is also fundamental to online betting. Although gambling levels have dropped during the COVID crisis, our commitment to safer gambling is being stepped up."
"It is important that we help our customers stay safe and in control of their gambling during these difficult times. That's why BGC members have developed a 10 pledge action plan that will help govern members throughout this crisis."
"Increasing safer gambling measures with more monitoring and customer interventions, stepping up safer gambling messages and measures like promoting deposit limits, together with a tough crackdown on affiliates and calling out rogue black-market operators, will make a big difference."
"We are also signposting professional help and are committed to funding Research, Education and Treatment (RET). The betting industry supports tens of thousands of jobs up and down the country, and we are equally determined to support the Government's National Effort through helping with volunteers and facilities."