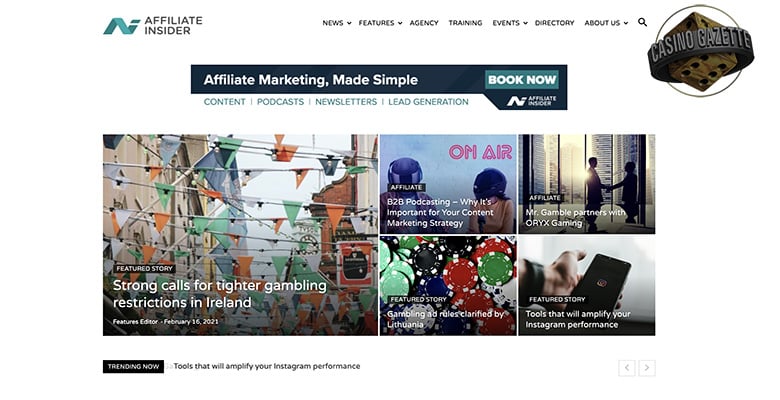 Latest Gambling News
BeTheHouse enlists AffiliateINSIDER for new Crypto Casino Affiliate Program Launch
BET Gaming Network ("BGN") Partners with AffiliateINSIDER to launch New Crypto Casino Offering
BET Gaming Network, a group of innovative blockchain protocols and platforms committed to pushing the boundaries of iGaming technology, have partnered with leading iGaming Affiliate Marketing agency, AffiliateINSIDER to develop and launch a brand new affiliate program for their new Crypto Casino brand, BeTheHouse.com.
Backed by AffiliateINSIDER's agency expertise, BGN will offer a robust affiliate program proposition for affiliates to engage using market leading tracking solutions, experienced management teams and a deep understanding of the crypto community to engage at launch.
BeTheHouse casino will seek to provide iGaming affiliates with tailor made promotions and trusted tracking to launch an exciting new casino experience for customers globally to enjoy.
Built from the ground up, BeTheHouse.com has developed a new and unique crypto casino brand, which complements their earlier crypto based games offerings, EarnBet.io and EOSBet to provide mainstream iGaming customers an exciting cryptocurrency casino that boasts a plethora of award-winning games and a unique levelling system.
Mark Lee, COO of BGN said:  "AffiliateINSIDER has demonstrated a keen knowledge of the crypto industry and have one of the most experienced affiliate marketers in iGaming at the helm, it was a no brainer for us to partner up with a team who have decades of experience to guide the strategy for our new program launch."
"We look forward to working with AffiliateINSIDER to create an affiliate program that excites and rewards affiliates who are looking to gain traction within the crypto gaming community."
BeTheHouse Casino aims to work creatively with new affiliate partners on various content and promotion campaigns which will be centred around the native network token of BGN, $BET.
The brand will also offer sector-leading commission packages for individuals contributing to the affiliate programs rapid growth upon launch.
Lee-Ann Johnstone the Chief Executive Officer of AffiliateINSIDER, commented: "The Crypto casino industry has grown at a phenomenal rate and we're excited to be partnering with new innovative companies like BGN and their new casino offering, BeTheHouse.com to build innovative affiliate marketing programs."
"We look forward to supporting affiliates and combining our extensive network and industry expertise to build growth and scale of BGN's Casino proposition." 
By integrating with both our affiliate expertise, a solid strategy and trusted affiliate tracking which BGN are leveraging alongside their experienced team within the crypto community, BeTheHouse casino is perfectly poised to scale and reach the global affiliate community successfully on launch.