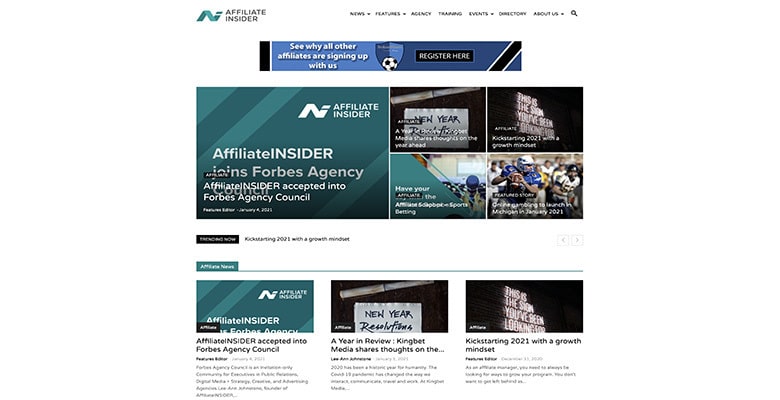 Latest Gambling News
Affiliate Marketing Agency AffiliateINSIDER accepted into Forbes Agency Council
AffiliateINSIDER founder, Lee-Ann Johnstone is accepted on the invitation only Forbes Agency Council
Lee-Ann Johnstone, founder of AffiliateINSIDER, a fast growing affiliate marketing agency and "Google News" approved content hub, has been accepted into Forbes Agency Council, an invitation-only community for successful entrepreneurs who specialise in a broad range of digital marketing agency services.
Johnstone, was vetted and selected by Forbes' review committee based on her depth of knowledge and diversity of digital and affiliate marketing.
Criteria for acceptance in this exclusive council include demonstrating a track record of successfully impacting business growth metrics, as well as having both personal and professional achievements and industry honours.
Scott Gerber, founder of Forbes Councils, the collective that includes the Forbes Agency Council commented: "We are honoured to welcome Lee-Ann into the community."
"Our mission with Forbes Councils is to bring together proven leaders from every industry, creating a curated, social capital-driven network that helps every member grow professionally and make an even greater impact on the business world."
As an accepted member of the Council, AffiliateINSIDER will gain access to a variety of exclusive content marketing opportunities increasing the agency reach and supporting professional influence and knowledge sharing around the Digital and Affiliate Marketing.
Johnstone commenting on the news, stated: "I'm pleased that Affiliate Marketing is getting a bigger voice as a digital channel across larger mainstream media like Forbes and I'm delighted to have been invited to join the Forbes Council."
"Affiliate Marketing shows no signs of slowing as a digital medium of choice for brands across the globe. I look forward to sharing my knowledge of Affiliate Marketing and Affiliate Program Management and discussing future digital trends on a global scale as a member of the Forbes Agency Council."
AffiliateINSIDER will be connected directly with other respected digital marketing leaders to collaborate and Lee-Ann will be invited to work with the Forbes professional editorial team to share her expertise on Affiliate Marketing and program management in original articles published on Forbes as well as contribute to their industry leader Q&A panels.