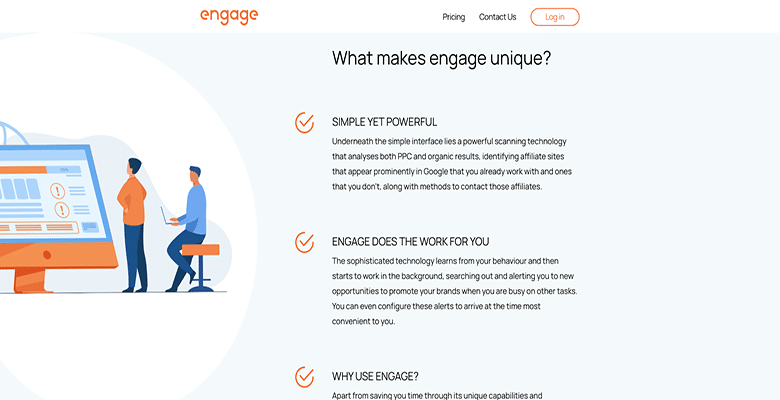 Launched in June of 2020, Engage is an iGaming Affiliate Discovery Platform that enables managers of affiliate programs to find and identify high ranking sites in the industry, currently not promoting their brands.
Able to scan affiliate sites at scale as a result of utilising machine learning technology, Engage takes the time out of searching for those elusive new leads, thus increasing your productivity.
The innovative software scans the internet 24 x 7 identifying and finding affiliate sites that operate within the iGaming space and boasts to provide an average of 19 new opportunities per search performed.
With in excess of 2,500 iGaming brands monitored, Engage is able to monitor a massive 7,500,000 pages. Thus enabling affiliate programs to easily identify new opportunities and also improve on existing ones.
At the time of launch, Engage is the only such platform that provides such a service for companies operating in the iGaming space. Employing a sensible pricing structure, which also allows operators to try out the service for a full week, without having to commit to an annual subscription, no doubt in our opinion the take up of Engage's services will be considerably healthy.
Continually monitoring the serps in the background, Engage will also notify their clients of any movements and new sites making an appearance.
For further information please visit Engage here.