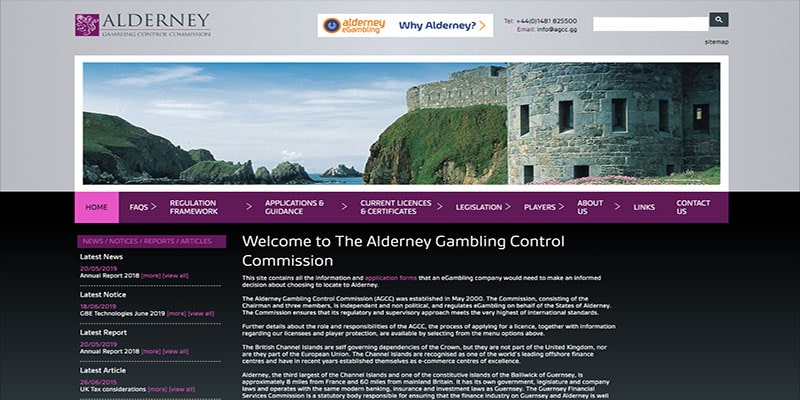 The Alderney Gambling Control Commission is responsible the licensing and regulation of iGaming operators which are based on the small Channel Island, which is located off the coast of France.
Established in May 2000, the Alderney Gambling Control Commission ( AGCC ) is arguably the most stringent remote gambling jurisdiction in the world, whereby all  remote gaming companies that operate on the Island have the highest standards to uphold.
As such players that play at any online casino which operates from Alderney have the added peace of mind, that the jurisdiction they operate from, proactively ensures that fair gaming and excellent customer care is adhered to.
Obtaining a license to operate from Alderney therefore is an extremely rigorous process.The purpose of the AGCC is to ensure the integrity of the remote gaming operations that are based on the Island. Alderney is designated a 'white listed' gambling jurisdiction by the UK Government and as such, operators based on the Island are allowed to run televised advertisement campaigns on the UK Televisions networks.
By being designated as a white listed jurisdiction, players of casinos operating from Alderney also have a very real assurance that they are playing on a casino which is operated in a highly regulated jurisdiction.
The AGCC provides a regulatory environment that in our view is World Class, ensuring extremely high standards covering player protection and in turn enhances the reputation of Alderney as a result. Of the several thousand remote gambling operations in existence, only a handful are based on Alderney.
Should a player have a grievance with any of the online casinos that are based in Alderney, players can file a complaint with AGCC. Grievances and complaints dealt with by the Alderney Gambling Control Commission cover all aspects of the online gambling operation, from advertising and marketing, to unfair treatment and player dispute issues.