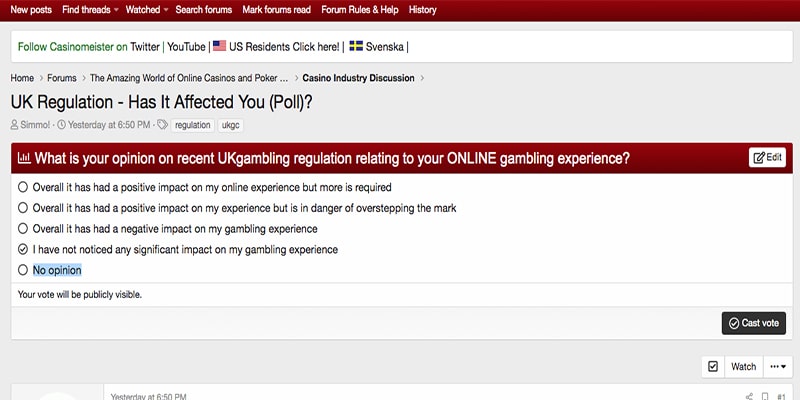 A poll has been initiated on Friday 9th August on the leading player advocate site Casinomeister, within their forum concerning the recent changes that the Gambling Commission have made, which their licensed operators have to adhere to.
During the course of 2019 there have been several high profile operators who have been subjected to penalty packages by the UKGC, with the UKGC releasing their Enforcement Report for the year last month.
The poll in question that has been created on Casinomeister which you can view here, concerns players and whether the actions of the UKGC in overseeing regulation of the UK online gambling sector, has affected their playing habits online.
All current members of the Casinomeister forum are eligible to vote in the poll, which has been made public so as everyone can see who has voted for the options available.
The choices available to vote on are:
Overall it has had a positive impact on my online experience but more is required
Overall it has had a positive impact on my experience but is in danger of overstepping the mark
Overall it has had a negative impact on my gambling experience
I have not noticed any significant impact on my gambling experience
No opinion
With many people now being vocal against some of the changes that have been made by the Gambling Commission, the results of the poll should make interesting reading.
Indeed,  it is likely as a result of some of the changes that the UKGC have enforced, that more smaller operators will join the likes of InterCasino who have decided to leave the UK market place.