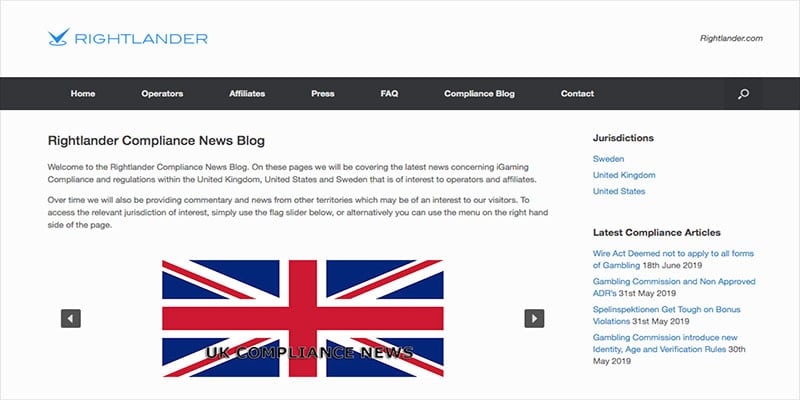 The affiliate compliance and monitoring site Rightlander has today launched a compliance news blog, which provides information and commentary on changes to compliance and regulatory requirements, initially within three separate jurisdictions
The licensing and regulatory jurisdictions covered are the  United Kingdom, United States and Sweden, with Rightlander aiming to publish all and any news concerning those jurisdictons which may be of an interest to iGaming operators and affiliates alike.
Rightlander which started out as a landing page monitor for affiliates, is now being used by scores of iGaming operators to ensure their affiliate partners are compliant with the regulatory authorities, where their brands are advertised.
The purpose of the Compliance News blog on the Rightlander site is to highlight any changes in the regulatory framework in the  jurisdictions of the United Kingdom, United States and Sweden, which the blog covers.
In the addition of highlighting and showcasing any changes made, from time to time Rightlander will provide commentary when necessary, thus ensuring their clients and also visitors to their site are kept up to speed, in an ever changing area.
The Rightlander Compliance News Blog can be visited here.