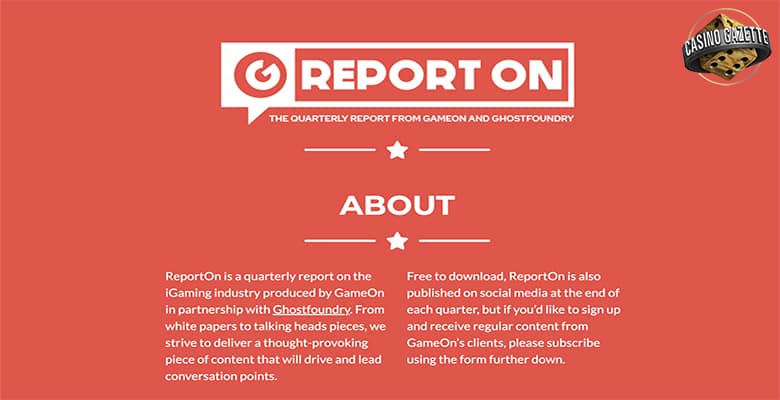 Latest Gambling News
ReportOn: Do More to Drive Innovation in Responsible Gambling
New industry report from GameOn and Ghostfoundry brings together thoughts from some of the industry's leading minds
The Isle of Man based GameOn has in collaboration with the content marketing agency Ghostfoundry, produced a new quarterly industry report titled ReportOn, with the first such report released today finding that more needs to be done to drive innovation in responsible gambling.
The report features comment from a range of stakeholders in the iGaming sector, including:
Future Anthem – Leigh Nissim /CEO & Founder
SkillOnNet – Michael Golembo
FSB – Achilleas Chrysafis /Head of Platform.
Betsson Group – Eduards Jakubov /Head of Responsible Gaming
CEGO – Allan Auning-Hansen /CEO
Better Change – Victoria Reed /Co-Founder
Most stakeholders believe significant progress has been made over the last decade and especially in the past two years, but operators, suppliers, affiliates and regulators must keep pushing ahead.
This is what Victoria Reed from Better Change had to say: "I liken the responsible gambling situation to that of diet and exercise. No one wants to be overweight and unhealthy, but we can all push ourselves more to do what we know is the right thing."
"It's the same for operators. It is not healthy to have problem gamblers on the books and it's certainly not good for business."
"So, while I think they don't get enough credit for the work they're already doing, it is true that they could always do a little more."
ReportOn looks at what might happen if the industry doesn't do "a little bit more" as well as what those at the cutting edge of responsible gambling are doing to better protect players.
Sarah Blackburn, Director at GameOn, said: "ReportOn aims to kick start discussions around hot topics by collating the thoughts and opinions of the brightest minds in the industry."
"Responsible gambling is and will always be a key focus for all and this issue of ReportOn highlights the great progress that has been made in recent years while also laying the foundations for driving more innovation moving forwards."
With Araminta Hannah, Director at Ghostfoundry, adding: "We are thrilled to be working with GameOn to produce ReportOn which will become a platform for conversation around key trends."
"The calibre of contributor to this first issue is incredibly high, providing insight, experience and ideas for innovation from the industry's leading minds."
"It is an insightful read and we hope it will help start further conversation around the topic of innovation in the area of responsible gambling."
The full report can be found here