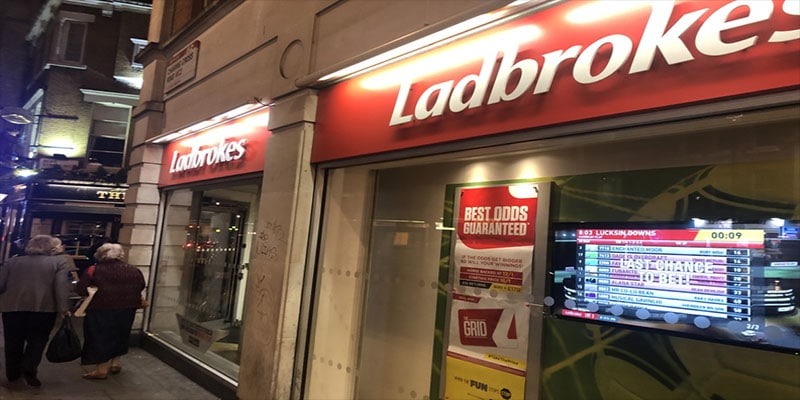 Hot on the heels of the news yesterday that William Hill have started a consultancy process that could see 700 shops close, this morning the Racing Post is reporting that GVC Holdings have revised down the number of shops at risk of closure at Ladbrokes Coral.
The risk to the 'High Street' of several bookmakers closing up shop is due in the main to the introduction of the new maximum stake on Fixed Odds Betting Terminals.
The new stake limit which came into force on 1st April this year, reduced the previous maximum of £100 a bet to £2 a bet. This new measure was brought in by the government, due to very real concerns that FOBT machines were fuelling problem gambling.
The licensing for having FOBT machines in betting shops is such that a maximum of four machines per shop was allowed. Hence bookmakers got around this, by opening up additional branches, in some cases just yards away from existing shops.
Since their introduction in the early 2000's UK bookmakers have found FOBT machines extremely lucrative and as such there were very real concerns that any adverse changes to the maximum stake limit, would in affect risk shop closures.
This news concerning the shop estate of Ladbrokes Coral, whilst good in the sense the number of shops at risk has been rounded down, is still not just a major concern for those working in the industry, but the UK High Street as a whole.
A statement issued by GVC Holdings, the parent company of Ladbrokes Coral reads: "We now expect up to 900 shops to be at risk of closure over the next two years as a result of the reduction in maximum stakes on FOBTs to £2 that came into force on April 1, and there are a number of shops that have been identified for closure as part of this process."
"This is not a decision we are taking lightly and we will be working hard to minimise the number of redundancies through redeployment within the business, whilst offering redundancy terms enhanced beyond the statutory requirement. We will provide more detail when we announce our H1 results in August."