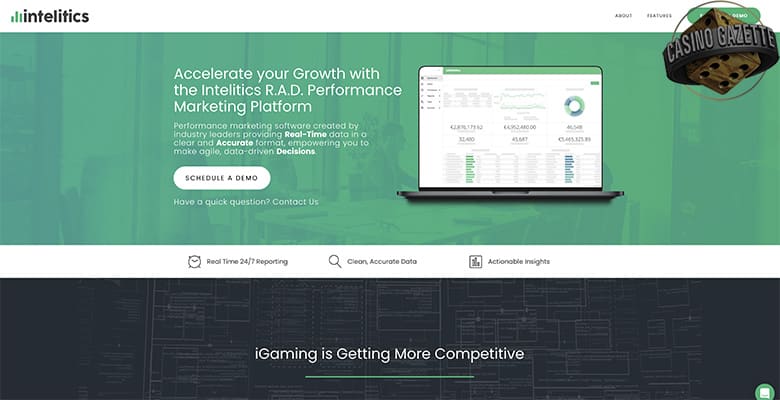 Latest Gambling News
Intelitics partners with Flows for US push
Innovative businesses form strategic alliance to help customers make impactful decisions quickly and informed by real-time data
Intelitics, the leading performance marketing and analytics provider, has partnered with Flows, the innovation platform that allows companies and individuals to build without code, to provide added value to customers in the North American market and beyond.
The strategic partnership allows Flows' customers to have seamless, real-time access to Intelitics, without the need to go through an additional integration. It strengthens the company's drive to offer choice to its customers through a single integration with Flows and ensure they are not limited with who they can partner with.
For Intelitics, the partnership means it can layer on data to help inform its Business Intelligence tools. It will allow customers to customise what they can do with the data as well as using Flows to create additional features and applications.
Flows is an innovation platform that securely ingests data from any feed, learns it and then translates the payload into the no code Flows builder.
From there you innovate and empower your organisation to connect systems, build features and drive digital automation and workflows. Flows is built to be one of the most agnostic pieces of software on the market, that is able to sit alongside any other piece of technology that you have or use.
Flows plugs in to super charge what you already have in place and what you don't have, Flows allows you to build, all without code.
Intelitics provides online sportsbook and casino operators with a single platform that allows them to track, analyze and grow all acquisition partnerships and campaigns across web and mobile through access to real-time data which in turn allows them to unlock hidden revenue and boost ROI.
James King, CEO at Flows, said: "Flows and Intelitics are two companies that are dedicated to pushing the boundaries in order to allow our customers to innovate and grow at scale."
"By joining forces, we can take this to the next level by providing partners with the ability to customise real-time data and by giving them the ability to build features and tools without code."
"This is a powerful combination and one that we believe will deliver tremendous added value to the North American market."
Allan Stone, CEO at Intelitics, said: "This strategic partnership between Flows and Intelitics will provide marketers in the US and beyond with the data and ability to develop and build the tools they need to extract the greatest value from it."
"The marketing war is already underway in North America but with the focus shifting from growth at any cost to growth at sustainable cost, marketers are going to have to use data to inform decisions and refine campaigns based on what it is telling them."
"The combination of Intelitics and Flows enables them to do just that. This really is a great partnership and one that benefits the customers of both businesses."