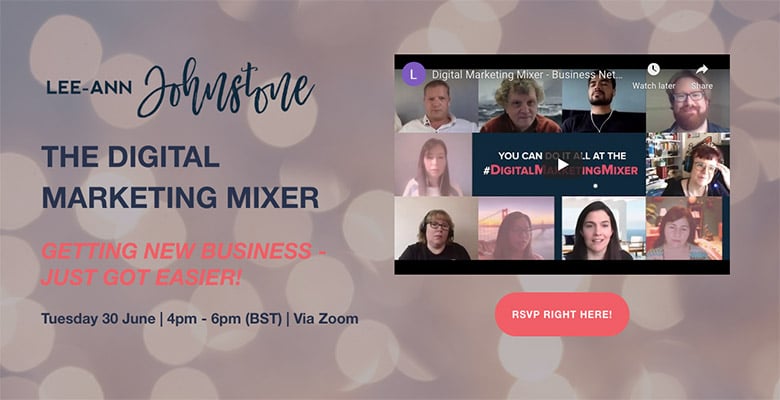 Latest Gambling News
Digital Marketing Mixer partners with Ugenie.io and Publisher Discovery
Digital Marketing Mixer partners with Ugenie.io and Publisher Discovery to provide extended new business and community networking
The Digital Marketing Mixer is a community based business networking event created by Lee-Ann Johnstone in collaboration with leading iGaming and Digital Marketing partners such as GPWA.org, Affpapa.com and Affiliate Guard Dog amongst others.
The event is designed to give digital and affiliate marketers an opportunity to develop personalised business contacts and the opportunity to keep abreast of what is changing in the affiliate and digital marketing industry.
New Business and Affiliate Program Growth
This month, the event will expand its networking and business function by collaborating with two leading software platforms offering delegates expanded opportunities to connect in person and improve their affiliate outreach.
Ugenie.io is a private platform for communities and memberships with the benefits of facebook groups enabling delegates to communicate with one another both before and after attending networking and virtual events. Ugenie.io will also deliver an exclusive 30-minute MasterClass strategy session for delegates at this month's event about how Content Marketing is changing and how to use it effectively to drive better customer conversions.
Ugenie.io founder Susan Kabani says: "We are incredibly excited to be supporting the Digital Marketing Mixer event. Our philosophy at Ugenie is all about building quality relationships in both the real-world or on-line."
"We are thrilled to see and be a part of the work being done by Lee-Ann to empower her digital community to do more through these business networking mixers and bringing the community together to continue conversations and learning through it's own business hub."
Delegates who attend this month's event will also benefit from an exclusive 30 minute MasterClass training on how to use content marketing to generate more leads for their website or business delivered by Ms. Kabani.
In addition to this, a collaboration with leading AI and Machine learning technology provider, Publisher Discovery has been secured. This SaaS platform gives affiliate managers a unique insight and analysis on affiliate programs across any market to help identify and engage new affiliates to onboard into their program. Using AI, the platform ranks and matches affiliates to advertiser's specific needs
Chris Tradgett from Publisher Discovery said" "Publisher Discovery are pleased to partner with Lee-Ann, a veteran in the Affiliate Marketing sector to support delegates who attend the Digital Marketing Mixer."
"Our software helps affiliate managers to find the most relevant affiliate partners to work with and attendees of the June event will receive FREE trial access to the platform to review and find their best affiliates. "
Lee-Ann Johnstone said: " This event has been curated to help my community get better connected during these uncertain times on a personal level."
"I really want to support affiliates and digital marketers to get access to expert insight, be able to collaborate with one another  and help support new business development at the same time. I've partnered with UGenie.io and the Publisher Discovery team to help make that achievable at this month's networking event."
The Digital Marketing Mixer is hosted monthly and the next iteration takes place on the 30th June between 4-6pm BST. The event offers live business "speed" networking and is FREE to attend for anyone working in the affiliate and digital marketing industry.
Over 100 delegates from all over the world, in a multitude of sectors have already RSVP'd to attend. Delegates include brands such Catena Media, BrandVerity, Smile Software, Every Matrix, Fortune Jack and more.
Michael Corfman of the GPWA says: "The first Digital Marketing Mixer was a great way to network with fellow affiliates and with affiliate marketing programs. I'm very much looking forward to the opportunity to get together once again!" 
You can RSVP FREE and join the Digital Marketing Mixer – HERE