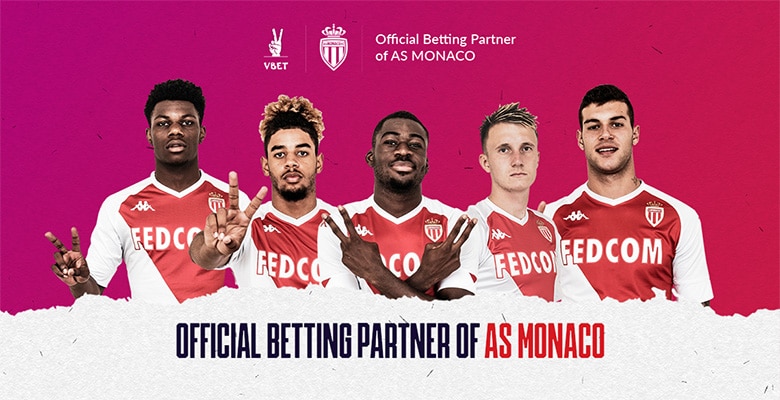 Latest Gambling News
AS Monaco link up with VBET
VBET becomes the official betting partner of French side AS Monaco
Today seems to be a popular day to announce shirt sponsorship deals in the world of professional football. Following hot on the heals of the announcement from Bristol City and MansionBet, French side AS Monaco have announced VBET as their new official betting partner.
The VBET and ASM alliance will have a digital orientation and will be sealed by the branding of the iconic magenta logo on the club's shorts .
 VBET, active in France for a year, has celebrated its first anniversary with the signing of a two-year partnership with AS Monaco, consolidating its reputation as a high-class online bookmaker and granting itself increased visibility. VBET's logo will thus be branded on the players' shorts.
Animations on giant screens and LEDs within the Louis II stadium and on other communication supports will also bear VBET's branding.
 In addition to these assets, VBET will also give out gifts to the fans throughout the season – home and away VIP tickets, jerseys, balls and free bets to be won through activations on social networks.
This agreement will increase VBET's visibility and presence in France and allow fans to have exciting, "money can't buy", experiences, such as meetings with players, access to the pitch before the match, training sessions and numerous activations within the stadium.
VBET will also be on the club's website and social networks, proposing various special offers linked with the partnership.
VBET and Monaco share common values, the same spirit of conquest, innovation, passion for football and a strong desire to establish themselves in highly competitive markets.
Similar to AS Monaco and their strong bond to their community of devoted fans, VBET is also taking a "Social Betting" approach where the player is at the centre of its philosophy. A philosophy that VBET believes is the key to its success.
By associating itself with a quality brand such as the Monaco club, VBET intends to consolidate its brand's position on the French market.
Vigen Badalyan, Founder and CEO of VBET said : "We are proud of our long term partnership with AS Monaco, a truly remarkable milestone in VBET's history. Together towards victory!"
Oleg Petrov AS Monaco's Vice-President General Manager added: "We are very happy to seal this partnership with VBET, a very dynamic and essential player in its sector."
"AS Monaco and VBET are linked by a passion for football,a strong sense of sportsmanship, a drive for innovation and risk-taking and a strong desire to establish themselves as leaders in very competitive circles. We are delighted to start this collaboration. I welcome VBET to the AS Monaco family."