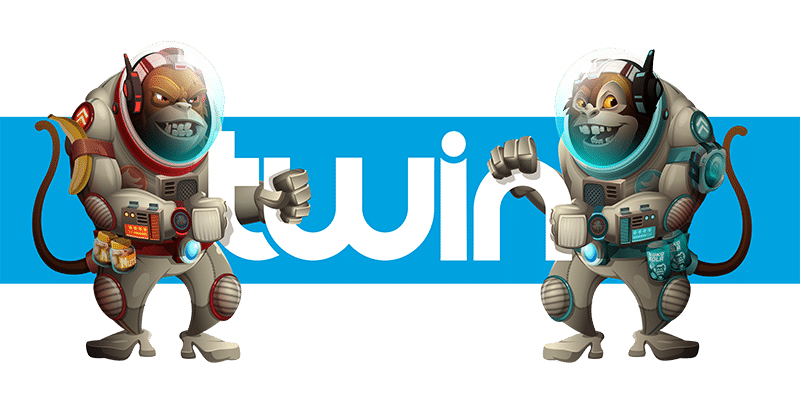 Twin Casino is proud to announce the release of their first online slot game, Banana Odyssey, created in partnership with Slingshot Studios exclusively for Microgaming.
For the next 8 weeks you will be able to play Banana Odyssey exclusively at twin.com. Starring two Astro-chimps, Chip and Buck, this intergalactic adventure will take you to the Banana Planet, a faraway place packed with enormous riches and big wins.
This is a feature rich game loaded with expanding wilds, re-spins and free spins, which makes for an exciting gameplay. This 5×3 reel slot can be played from either side and players can get rewarded with different features depending on which side they play from.
Banana Odyssey reinvents the space-themed slot variety with its astro-chimp race towards the massive banana winnings. It comes with fun bonus features, wins of up to 400x, RTP exceeding 95% and regular features with medium volatility.
Kasper Bach, Twin's Head of Casino, said: "This slot is a testament to Twin's continuing progress to further strengthen ourselves in an ever-growing competitive market. In an attempt to create the "ultimate slot" Twin has combined players' favorite features and we couldn't be happier with how it turned out.
With special thanks to the guys at Slingshot Studios for making this dream slot as close to our idea as possible. It has been really exciting to work with them during this process and we can't wait to share it with the rest of our customers!"
About Twin:
Since its launch in summer '17 Twin has become widely acclaimed as one of the hottest casinos in the industry. With their "twinifying" approach this casino doubles everything – bonuses, game choice and speed of payouts. Twin is accredited and licensed by the Malta Gaming Authority ("MGA") and is currently available in 5 different languages.