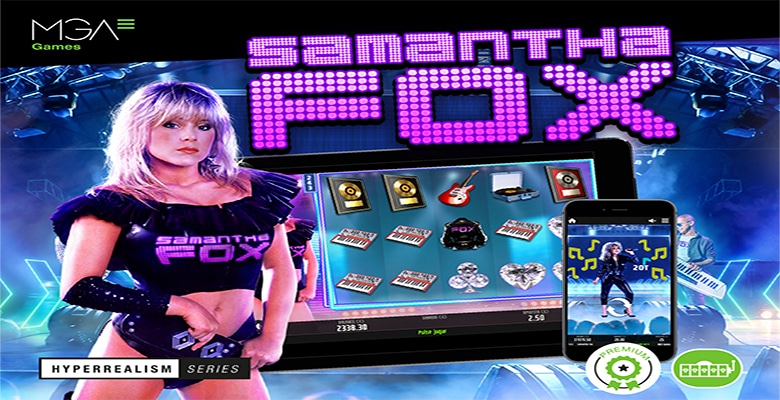 Latest Gambling News
Samantha Fox latest to star in MGA Games Hyperrealism Slot Series
Sam Fox the English singer, actress, and model is the protagonist and gives her name to the latest production by MGA Games.
Sam Fox the 1980's glamour model, whose posters filled the bedroom walls of thousands of teenagers and adolescents, makes her stellar appearance in the scene of casino slots through the Hyperrealism Series by MGA Games.
The company specialised in the development of online casino premium productions has chosen the international star to elevate its Hyperrealism Series, the range of slots that stand out for the popularity of its characters, as well as for the quality of its graphics and hyperrealism of the images.
The sweeping influence of the Samantha Fox phenomenon in the 80s remains unaltered today in the memory of thousands of fans. Since the Beatles there had not been a British celebrity as well known worldwide. Her song "Touch me" launched her to the top positions in United Kingdom and the United States, and she was number 1 in 17 countries, achieving a total of 24 platinum, gold and silver records.
One of the tit-stars of the period for her exuberant bust, had, and still has, thousands of followers. Her sex-appeal and fascinating charm managed to cross borders, holding massive performances all around the world.
For example, in Latin America, she achieved a record in sales during a concert tour, and it is calculated that, in just one year, she performed in front of more than a million fans. Currently, Samantha Fox continues to star in shows worldwide with the same vitality and success.
Her appearance in the world of online slots will not go unnoticed. The latest creation by MGA Games is a tribute to the famous singer. Samantha Fox includes 4 mini-games that relive the career of the sex symbol with photoshoots, recording studio, concerts and autograph signing. And, the figures of the 5 reels remind us of the personal objects of the artist and of the time period, such as leather jackets, record players, and cassettes. An immersive and dynamic experience that will provide maximum enjoyment to the player.
Wild figures are especially important; they act as wildcards and substitute all others except Scatters and Bonus. Additionally, all prized spins with Free Spins have a X2 multiplier.
The game also includes 243 combinations of prizes and reels joined together, which allow the player to get maximum enjoyment out of this trip to the 80s. With a maximum prize of  27,000€, the slot takes minimum and maximum bets of 0.25€ and 25€, respectively.
Samantha Fox, the new release of the Hyperrealism Series by MGA Games will be launched in the international market on Monday, May 25. The game is planned to reach online casinos in Colombia on June 29 and, finally, it will be available to Spanish operators on July 22, 2020.