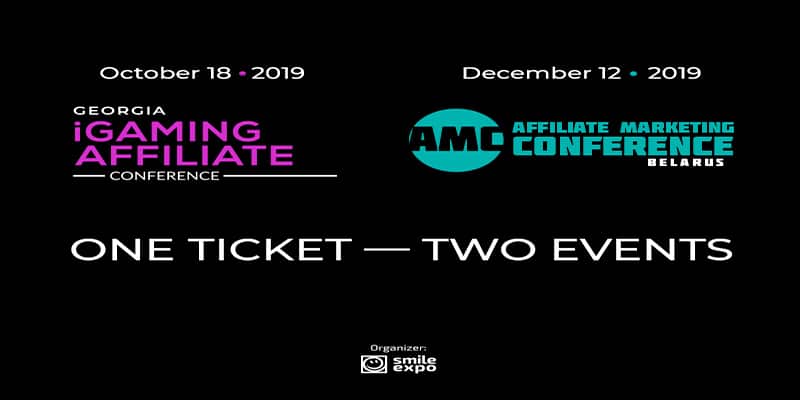 The Georgia iGaming Affiliate Conference which was held in Tblisi, Georgia on the 18th October a couple of weeks ago, was a great success and Casino Gazette takes a look at the highlights of the conference, which saw members of the iGaming industry descend on the event.
The event was dedicated to the specific nature of online and offline gambling business operations, Georgian gambling market prospects, and casino promotion using affiliate marketing.
The conference brought together casino managers, affiliate network representatives, government officials, webmasters, arbitrage experts, SEO specialists, as well as gambling regulation and taxation professionals.
Speakers' presentations
Sviatoslav Slaboshpitskiy, Head of SEO at Digital Choo (DC), spoke on the topic: The Art of War in SEO: How to Win the iGaming Niche. The speaker stressed that one should develop niche websites to achieve efficient results. At the same time, it is significant to analyze the response and to evolve resources showing the best performance.
Sviatoslav also talked about the rules of SEO team building. The expert recommended entrusting the content creation to single-discipline specialists as well as developing checklists and tutorials for newcomers.
Dmitriy Makarov, CEO at Zlodei Advertising Agency, and Gleb Sanzharevsky, CMO at Zlodei, made a collaborative presentation dedicated to ad placement on YouTube and Twitch. They explained that promotion via influencers could increase conversion better than direct advertising. The experts stressed that user stories and popular memes made ads more fruitful.
Nikola Minkov, CEO at Serpact, examined the application of the so-called Featured Snippets, zero blocks in the search results. According to the speaker, Google provides users with such snippets in 40% of the queries. They allow online resources to generate organic traffic and enhance the click-through rate.
The audience was intrigued by Ketevan Bitskinashvili, Chief Financial Officer at the Ministry of Finance of Georgia. The speaker told them about the special features of the Georgian gambling market regulation. She mentioned that the cost of gambling permissions depended on a venue type, a target region, and a number of installed gambling machines. The same parameters affect tax rates.
Ms. Ketevan stated that Georgia had already issued 214 gambling licenses. 20 casinos are operating in the country now. 10 of them are located in Batumi and its suburbs, 6 in Tbilisi, and one each in Gudauri, Tskhaltubo, Kazbegi, and Sighnaghi.
Giorgi Gvenetadze from Adjarabet raised an issue of online casino customer acquisition. The speaker believes that the core feature of advertising banners used by Georgian casinos is the availability of luxury car images. Besides, promotion messages mostly appeal to senses of beauty, control, and simplicity.
Panel discussion
The conference featured a panel discussion titled 'Offline and online casinos. Review of tools for the competition for user attention'. It involved:
• Shota Amiranashvili, President of the Association of casinos in Adjara;
• Levan Kavtaradze, Director of Gaming department at Pokermatch;
• Giorgi Gvenetadze, Head of Product Marketing Department at Adjarabet;
• Lavrentiy Gubin from Shangri La Casino, an invited guest.
Experts said that primary advantages of land-based casinos included reach experience of the gaming process, expensive surroundings, and staff attentiveness. Virtual gambling platforms are lack of these aspects. Therefore, discussion participants think that offline gambling venues will never shift to the online space.
Speaking about the most in-demand gambling entertainments, specialists highlighted simple and user-friendly games like roulettes. Moreover, they noted that poker was becoming less popular because of the high buy-in. Currently, we can see a crypto casino trend, as such platforms ensure anonymity.
Participants also focused on the state regulation of the gambling market. According to them, countries failing to regulate the gambling business lose money that could go to the government budget as taxes. One more fact specified: gambling advertising bans give an impetus to look for new audience engagement channels.
Afterparty
The conference ended with a party. Guests, speakers, exhibitors, and sponsors were able to enjoy live music, Georgian sweets, beverages, and snacks. The afterparty allowed participants to communicate in a relaxed atmosphere and establish useful business contacts.