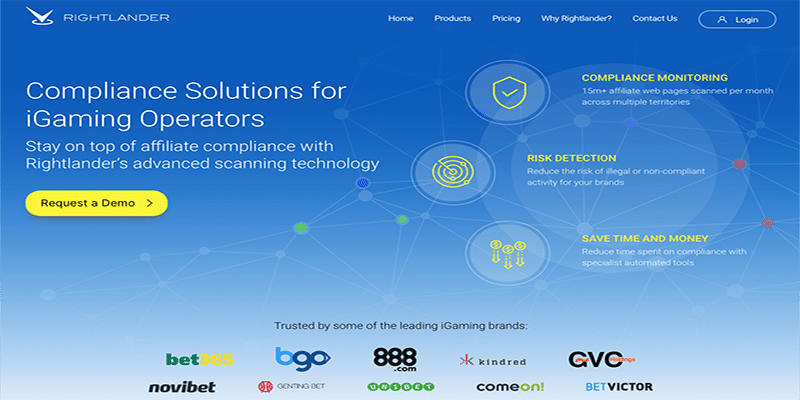 Affiliate compliance specialist and industry expert, Rightlander.com, has partnered with Playtech, the world's leading gambling technology company, to make its smart technology compliance solution available to Playtech operators.
Under the deal, Rightlander.com will offer its technology alongside Playtech's award winning IMS platform, providing its partners with access to a comprehensive range of affiliate compliance tools which include the Automated Compliance Monitor, a PPC Monitor, a Proactive Affiliate Finder and their latest offering, Compliance Live.
The Automated Compliance Monitor helps detect non-compliant content across geo-locations including the United Kingdom, Sweden, Denmark, Australia and the United States. The monitor flags potential violations such as missing terms and conditions, outdated offers, incorrect marketing assets allowing Playtech partners to remain compliant in different jurisdictions.
The Proactive Affiliate Finder scans millions of web pages every month to identify new and prominent sites and the innovative PPC Monitor identifies harmful ads to stop them from appearing on an operator's branded keywords. The newly launched Compliance Live will be useful for Playtech operators who can track real time non-compliant advertising during live events such as football games.
Ian Sims, founder of Rightlander.com, said: "It's great to see Playtech taking steps to help its operators be as compliant as possible when it comes to the often-challenging area of affiliate compliance. Our technology does much of the heavy lifting, allowing operators to clearly see the publishers linking to their brands and be notified of any violation events that occur. This is a commendable move from Playtech and we encourage other platform providers and operators to take additional steps to improve affiliate compliance."
Anthony Evans, VP of Product Strategy at Playtech, said: "We are delighted to welcome Rightlander.com to our SaaS programme, designed to offer our customers access to specialist services from carefully selected third parties. At Playtech, a key part of our mission is to equip licensees with the tools they need to comply with the most stringent of regulatory requirements. Rightlander.com represents exactly what we are looking for in a SaaS partner, offering both an understanding of the unique demands of the gambling industry and the specialist technology to address one of its major compliance challenges".
About Rightlander Ltd:
Rightlander.com is a state-of-the-art affiliate compliance platform that allows affiliates and operators to identify potentially non-compliant content in regulated jurisdictions. It does this by scanning affiliate content from within the target jurisdiction, looking for events or conditions defined by operator clients and regulators, and sending alerts when it finds content that meets those conditions.
Launched in January 2018 the Rightlander.com product has expanded rapidly into multiple territories around the world and is used by many high-profile merchants, operators and affiliate networks to help them keep on top of their affiliate compliance responsibilities.