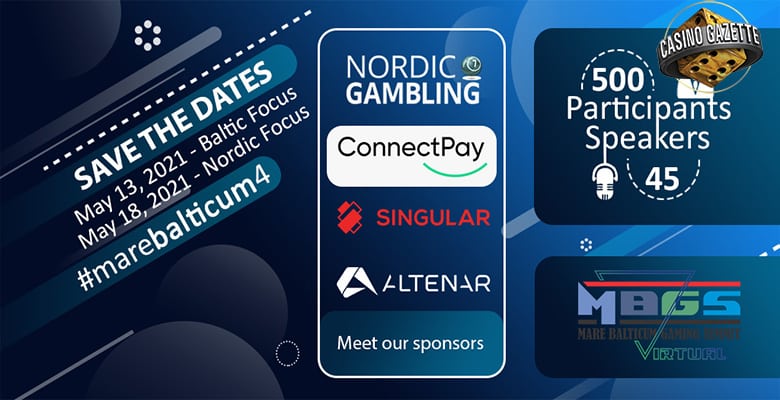 Latest Gambling News
MARE BALTICUM Gaming Summit announces its Main Sponsors
MARE BALTICUM Gaming Summit 2021 will be hosted in two virtual Meetups and is backed by loyal sponsors
The #hipthers are excited to announce the sponsors' list at the 2021 Virtual edition of MARE BALTICUM Gaming Summit.
As announced earlier, the 2021 edition MARE BALTICUM Gaming Summit will be split into two separate meetups.
The industry shareholders can choose to attend the two meetups that are planned the following way:
• Baltics Meetup – 13 May
• Nordics Meetup – 18 May
You only need to register once to receive access to the meetings and the recordings.
Leading gambling industry experts, regulators, operators, and connected service providers are expected to give speech during the conference and the organizers would like to give thanks to the sponsors of the event.
You can read the descriptions of the companies who are supporting the conference as sponsors:
Nordic Gambling is the only legal firm in the Nordic countries that specializes in gambling-related law such as licensing, compliance advice, and public affairs.
They have gained extensive experience in the industry from working with operators, suppliers, service providers, and government regulators. Their team has been closely involved in the development of the law and regulation in a number of European jurisdictions, including Denmark and Sweden.
The partners of Nordic Gambling are recognized among the leading legal experts in the gambling industry and are qualified to assist you with whichever legal issue you may encounter.
The team at Nordic Gambling is also very pleased to announce that they have contributed a section on Sweden, first published in the latest version of the International Comparative Legal Guide to Gambling 2020.
Singular has 10+ years of experience working with Tier 1 iGaming operators. Singular Product Portfolio includes a comprehensive and flexible iGaming platform, Sports Betting Platform with market leading features alongside a Retail solution and a Casino Core with 7000+ casino games.
The three pillars of the company are: reliability, flexibility and innovation which are the founding blocks of the company's way of work reflected in the corporate slogan BE OUTSTANDING.
Altenar is a provider of sportsbook services to licensed gaming operators. Ranging from "software-only" product offers to the provision of a fully managed sports betting platform stack, Altenar offers proven stability coupled with flexible and personalized service.
Their software is developed and operated in-house, whilst being powered by premium quality data feeds.
ConnectPay is the fastest growing Electronic Money Institution (EMI) in Lithuania – the leading fintech hub in continental Europe – providing banking services for internet based companies.
By offering smooth onboarding and boutique banking experience ConnectPay has established a strong clientele featuring numerous Tier 1 gambling companies.
Strong focus on different legal jurisdiction specifics enables Connectpay to make compliance work for their clients not against them.