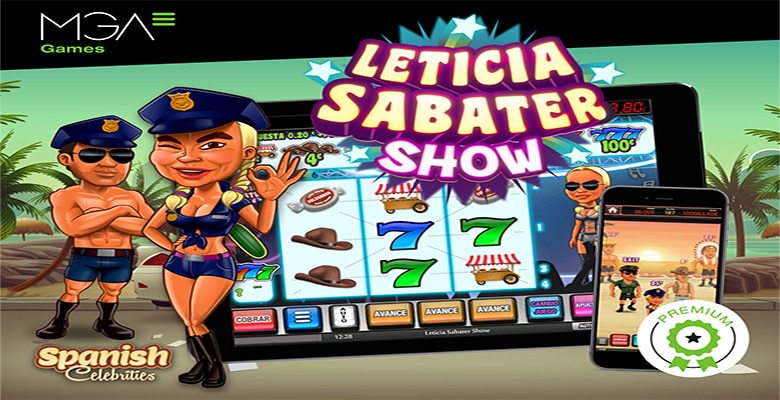 Latest Gambling News
Leticia Sabater Show Online Slot
MGA Games launch their Leticia Sabater Show slot on the Spanish market as part of their Spanish Celebrities series
Leticia Sabater Show, the long-awaited Spanish Celebrities game produced by the innovative MGA Games, is available now for all online casinos operating in Spain. Users will be stunned at the level of detail that the main character has, which is reflected throughout the game.
Leticia Sabater, who defined the childhoods of many a generation with programmes such as "Mucha Marcha", managed to reinvent herself some years ago by entering the music industry.
She released catchy songs like 'La Salchipapa' and 'El Polvorrón' that are now firm favourites on our summer playlists. Her appearance on various reality shows has meant that she has stayed in the spotlight and just a month ago, she managed to win over the public and emerge victorious in the first series of 'La casa fuerte' alongside Yoga Berrocal.
Her musical journey, including her songs and music videos, are brought to life in the 7 mini-games featured in the Leticia Sabater Show. It's the largest number of mini-games to date featured in a slots production. In addition, users will now have the option to choose the mini-game they want to play: Salchipapa; Toma Pepinazo; Mr Policeman; YMCA; Polvorron y Trinchame el Pavo; Yo quiero fiesta and Leti Rap.
This game also includes a large number of funny and entertaining messages recorded by Leticia Sabater herself, which have been added to motivate and encourage players throughout the game. With this considered, MGA Games have stated that this collaboration and Leticia Sabater's involvement has been very rewarding.
The quality of the graphics in Leticia Sabater Show is another standout feature right from the start. The depth and movement of the images create an exceptionally immersive experience for users worldwide.
It's a promising new production as part of the Spanish Celebrities series that will excite online casino users and that fits in comfortably alongside the extensive list of successful productions by MGA Games, alongside Chiquito, el Señor Barragán and Arévalo, amongst many others.