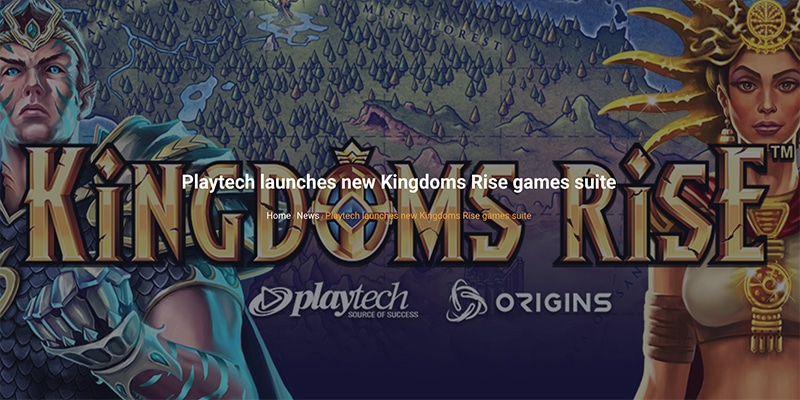 Leading casino game developer Playtech have over the past few days launched network wide across their operators Kingdom Rise, which they class as a major new games suite.
Games that went live on the 24th October as part of the launch were Guardians of the Abyss, Sands of Fury and Forbidden Forest, which you can check out first hand on bet365 casino.
Guardian of the Abyss is a 5 reel progressive jackpot slot game that has 25 paylines, with a total of three progressive jackpots on offer to players. Likewise Sands of Fury is a five reel, 3 row slot with an RTP of 96.26%. Again like Guardian of the Abyss, this slot offers three progressive jackpots. Lastly, Forbidden Forest which has 576 paylines, again offers the chance to win three progressive jackpots on offer.
Speaking about the the Kingdom Rise Games Suite, Playtech's James Frendo, who is Director of Casino Games at the developer, said: "Innovation is always at the forefront of Playtech's games development process and, in Kingdoms Rise, we are proud to be delivering an industry-first concept for players and licensees alike."
"The suite's token system gives players the power of choice like never before – they decide what feature to play, when to play it and in which game. Some players may want to try a feature as soon as they have enough tokens; others may prefer to build up a balance and play several features at once. The key point is, the choice is theirs."
"Kingdoms Rise also takes full advantage of the capabilities of our Engagement Centre, and offers our licensees a ground-breaking cost-effective, content-led alternative to traditional bonusing. This is a fantastic opportunity to cross-sell from game to game and build player loyalty to the brand."
"For players, the chance to "earn" extra in-game features and potentially significantly boost their win potential will be a key point of differentiation. The opportunity to gain more tokens, which can be redeemed in any Kingdoms Rise game, is a clear incentive to try all games in the suite."
"The success of multi-game brands such as Age of the Gods clearly demonstrates the value and potential of original content and, with its uniquely enhanced player experience, we're confident that Kingdoms Rise will have the same strength of appeal."