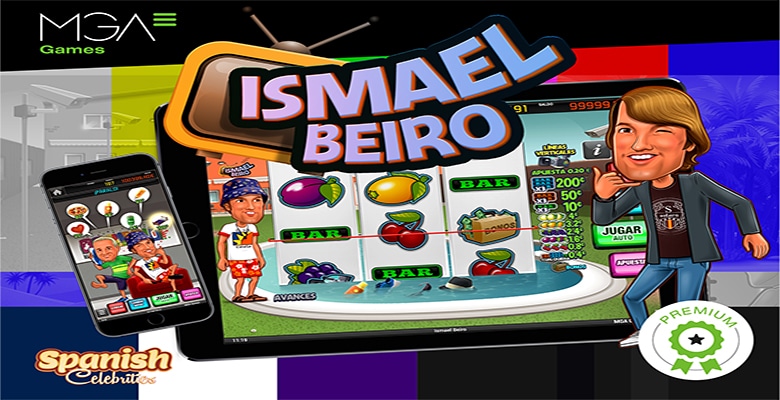 Latest Gambling News
Ismael Beiro, the latest Spanish Celebrities slot by MGA Games
The slot includes a total of 6 mini-games, a record number featured in a single production
MGA Games, a company with expertise in developing localised slots for global operators, today launches Ismael Beiro, its latest slot from the Spanish Celebrities range. The star of the game is part of television history, having won the first edition of Big Brother, the longest running reality TV show in Spain.
The millions of viewers who kept up with his exploits can still fondly recall his friendliness and straightforward demeanor that led to him triumphing and becoming one of the most well-known faces throughout Spain.
MGA Games have managed to perfectly convey his cheekiness and fun-loving nature with every spin. In order to achieve this, the company collaborated with the Cádiz native, who recorded all of the audio samples found in the game. These include phrases such as "pisha" and "compadre", which he himself popularised.
In his debut in the world of slots, Ismael is accompanied by his inseparable friend Ivan Armesto, whom he first met in the Big Brother house and has since gone on to share numerous adventures with over the years.
Together they offer users a chance to enjoy this new and immersive slot like never before, which boasts a loading speed that will guarantee a unique gaming experience.
The new Ismael Beiro slot also has a total of 6 mini-games, the highest number created by MGA Games for a single production to date.
Through them, online casino customers will be able to learn about the life and times of Ismael Beiro, after passing through the Big Brother house in Guadalix de la Sierra.
They will be reminded of his career in television working as a co-host on Canal Sur and as a contestant on various adventure reality shows. In addition to his recent stint as a stand-up comedian. What's more, thanks to the slot mini-game selector, users can easily access their favourite games.
The latest addition to MGA Games is a 3×3 slot, with a minimum bet of €0.20 and a maximum of €10, with a top prize of €10,000 and medium volatility. Ismael Beiro is available from today to all online casinos that operate in Spain and that are part of the MGA Games partner network.