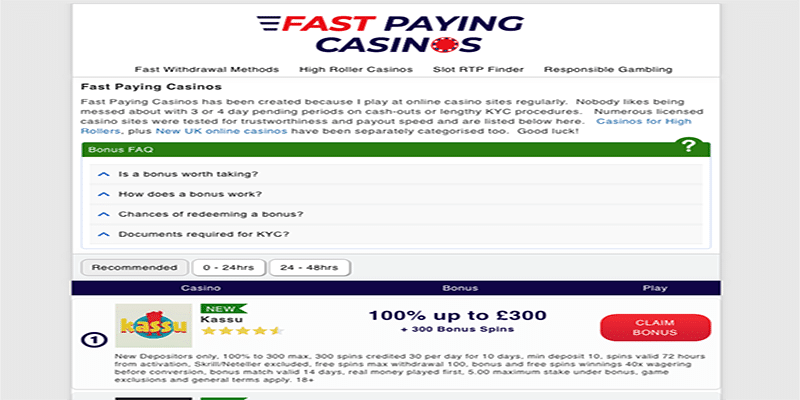 The casino portal Fast Paying Casinos which lists in their view the fastest paying casinos online, has in the past week unveiled a new design and facelift, enabling the site to be mobile responsive and more intuitive for its visitors.
Established a couple of years ago in 2017 by online slots enthusiast Dazza Gee, who also operates a popular slots review YouTube channel, FPC provides a wealth of information for players, especially those that are fans of playing slots online.
The new design incorporated has improved the speed of the site significantly and in addition it is now viewable on an array of one the move devices, such as tablets and phones.
Speaking about the recently relaunched Fast Paying Casinos site, which can be viewed by clicking here, owner Dazza Gee commented: "Fast Paying Casinos has been brought into the mobile age with a minimalist redesign for speed of loading and smaller screen sizes, eliminating banners and therefore enabling the presentation and easy access to more licensed online casinos."
"Fast Paying Casinos will always present reputable online casinos which are properly licensed and checked.  With ever-growing regulation it's now more important than ever to be aware of where you are playing!"
"As the market faces increasing restrictions there will always be rogue outfits springing up to fill in the gaps and bypass responsible gaming, licensing and taxes – not on FastPayingCasinos.com though!"
All in all looks good Dazza and a vast improvement, congrats from the team here at Casino Gazette!