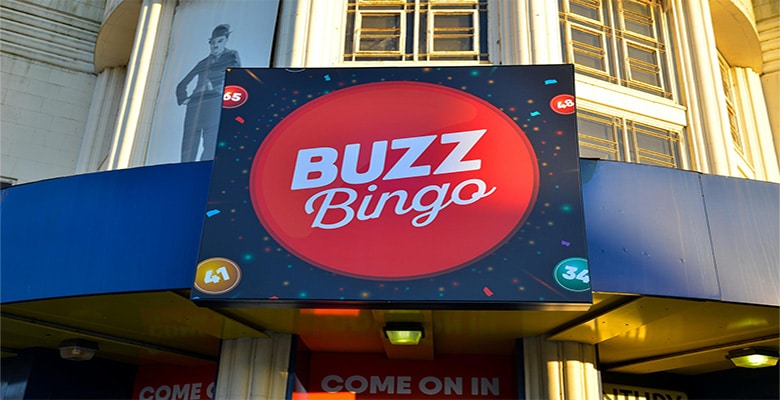 Bingo hall operator Buzz Bingo who own and operate over 100 bingo hall venues throughout the UK have announced they are to close 26 of them, due to the financial pressures placed on the business by the ongoing Coronavirus pandemic.
Since the end of March this year, all venues operated by Buzz Bingo have been closed due to the lockdown imposed on businesses by the govt, as the UK like elsewhere in the world continues to battle the spread of Covid-19.
Over the past few weeks the lockdown measures in the UK have eased somewhat, with many businesses supply non essential services now allowed to reopen, including the like of restaurants and pubs. However, as bemoaned recently by Rank Group CEO John O'Reilly, both casinos and bingo hall venues have not yet been given the green light to reopen their doors.
The move announced and taken by Buzz Bingo is one of the conditions of the CVA ( Company Voluntary Agreement ) they have undertaken with their creditors, as the company looks to secure its long term future.
Chief Executive Officer of Buzz Bingo, Chris Matthews speaking about this news, said: "The ongoing pandemic has had far-reaching consequences for the entire leisure and hospitality sector and an immediate and significant impact on our business."
"Following a thorough review of our options, the proposed CVA will restructure our retail portfolio to ensure we are well positioned for a return to growth, while adapting to the ongoing, challenging environment as we start to reopen the majority of our clubs."
Buzz Bingo Closures
The following Buzz Bingo venues listed below are earmarked to close, putting over 500 jobs at risk:
Antelope Park
Banbury
Boston
Bournemouth
Bridlington
Carlisle
Chatham
Chorley
Cramlington
Derby Foresters
Edinburgh Westerhailes
Harpurhey
Hereford
Kilmarnock
Milton Keynes
Oxford Kassam
Salford
Salisbury
Stockland Green
Tamworth
Wednesbury
Weymouth
Wigan Robin Park
Wolverhampton
Worcester
Wythenshawe