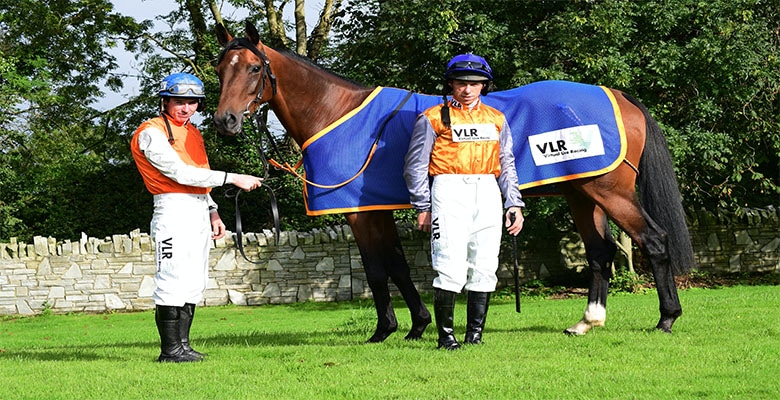 Latest Gambling News
Virtual Live Racing backing top young Irish jockeys Jack & Paddy Kennedy
Irish jockeys Jack and Paddy Kennedy got off to a great start with their new sponsor Virtual Live Racing (VLR)
The Kennedy brothers are two of the most exciting young jockeys around, so backing them is a great fit for a cutting-edge technology brand like Virtual Live Racing.
Virtual Racing offers products featuring ground-breaking fully rendered replicas of real horse racing tracks, stunning graphics and realistic commentary, with results based on anonymised historical data from real races.
Three major US tracks are live with VLR products already and more are in the pipeline – plus there are also big plans for international tracks.
While legacy virtual racing products are based on RNG (Random Number Generator), Virtual Live Racing's products are a huge leap forward and a first in the USA and internationally because races are based on anonymised and encrypted data from real-life thoroughbred, harness and greyhound races.
VLR are sponsoring the Kennedy brothers for the 2020/2021 season, and both Jack and Paddy have already notched up wins since the deal was announced.
Jack commented: "I'm really excited to be sponsored by Virtual Live Racing because it's always great to see the sport embracing new technology."
"With VLR offering a no cost software product to racetracks all over the world, it's a very exciting time, especially with racing going through a difficult period financially right now."
Virtual Live Racing's Chairman is Vincent Caldwell, the well-known online betting pioneer, racehorse owner, and former licensed ADW operator who has a long association with racing in Ireland, UK and USA.
Vincent said: "My passion for racing goes back to when I was a kid growing up in Belfast. I was inspired by the courage shown by all the jockeys, and the admiration and respect I have for guys like Paddy and Jack remains to this day."
"Seeing both of them winning was a dream start to what we hope will be a great relationship between the Kennedys and VLR. Jack has ridden eight winners for me as an owner, and I'm looking forward to more under our sponsorship."
Jack's first win while wearing the VLR logo on his racing silks was extra special – not only was it a remarkable comeback for the 21-year-old after returning to racing following six months out due to injury, he was also riding a horse trained by renowned Grand National, Gold Cup and Royal Ascot winning trainer Gordon Elliott who is also a VLR shareholder.