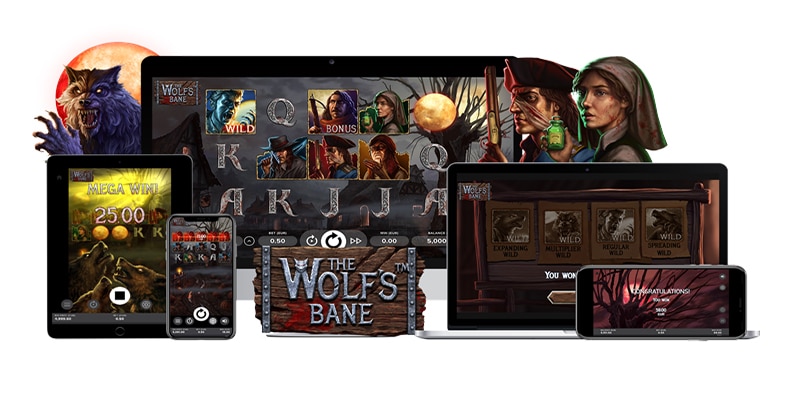 With just six days before the season of the witch and Halloween celebrations commence, Swedish developer NetEnt have jumped on the bandwagon and released the slot The Wolf's Bane.  Although, as has been pointed out by keen eyed slot players, The Wolf's Bane is not actually new if you look beneath the surface, with the slot being a clone of NetEnt's Wild Wild West slot machine.
It is not uncommon for slot game developers to utilise the same game engine when releasing new slot titles, indeed just look at the number of slot games from Microgaming that use the Thunderstruck 2 game engine for example.
The Wolf's Bane slot from NetEnt has been provided superb graphics and sound, whilst utilising their tried and test 5 row, 3 reel, 10 payline game engine. With the setting of the slot being in  a ravaged 18th century village. NetEnt have set the scene quite beautifully.
Incorporating a free spins bonus feature round as well as a pick and click bonus which can be attained, The Wolf's Bane has maximum 500 x bet win available for players to try and hit.
A low variance slot machine, which means players are likely to get more game time from their bankroll, with the downside that big wins are less likely, The Wolf's Bane has an RTP of 96.74%
Being the second such slot that has been released this week in time for Halloween, following right behind Microgaming's A Dark Matter, NetEnt are hopeful that at least just for this week, The Wolf's Bane will gain interest from players.
Certainly this is the case as far as Bryan Upton, NetEnt's Director of Games is concerned, who commented: "The Wolf's Bane is a beautifully designed slot that will make your hair stand on end."
"It's launch has been timed to coincide with Halloween but it's a game with a classic theme that we expect to have great longevity and wide appeal thanks to its proven game mechanics."