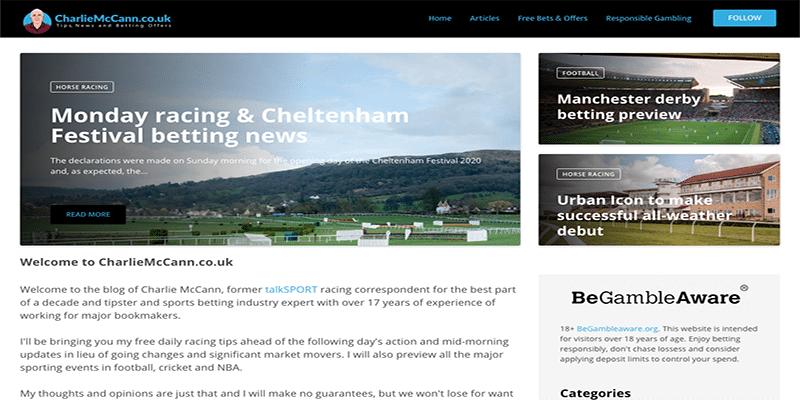 Former talkSPORT racing correspondent and tipster Charlie McCann, who has spent the last 15 years working as a PR/comms professional in the sports betting industry, has announced a new venture charliemccann.co.uk a free daily tipping service covering horse racing, football, cricket and NBA.
McCann said on the launch of his new project: "I was fortunate to work for a couple of outstanding brands in Stan James and latterly BetVictor, with whom I had nine hugely enjoyable years in the gaming industry, but I have always been, first and foremost, a punter and have written a successful daily horseracing preview for the last decade and regular sports betting columns.
"I hope my experience and expertise can prove helpful to the recreational punter and, while there are no guarantees, the hope is that we might be able to make a profit. We will certainly not lose for want of trying. I will stress the need in all correspondence of the need to Gamble Aware, set realistic deposit limits, don't chase losses and Gamble Responsibly. I know I do."
The site went live on Monday 2nd March and Charlie is currently blogging about and providing tips on the current Cheltenham horse race festival, so well worth a look. For more information go to charliemccann.co.uk or follow Charlie on Twitter at @charliesbetting 
About Charlie McCann:
Charlie has over 20 years experience in sports betting having worked for talkSport as their Racing correspondent/tipster – Charlie's Whispers – for the best part of a decade as well as regular slots on At The Races both online and in front of camera, Channel 4 Racing and Racing TV.
Latterly Charlie has worked as a PR/Comms professional in the gaming industry but has kept his highly successful daily racing preview and tips which goes to several on and offline media outlets and highlights tomorrow's market movers today.
As well as horse racing Charlie is a betting expert on a number of sports especially, football, cricket and NBA having played all three sports to a very high standard.
For further information please email: [email protected]