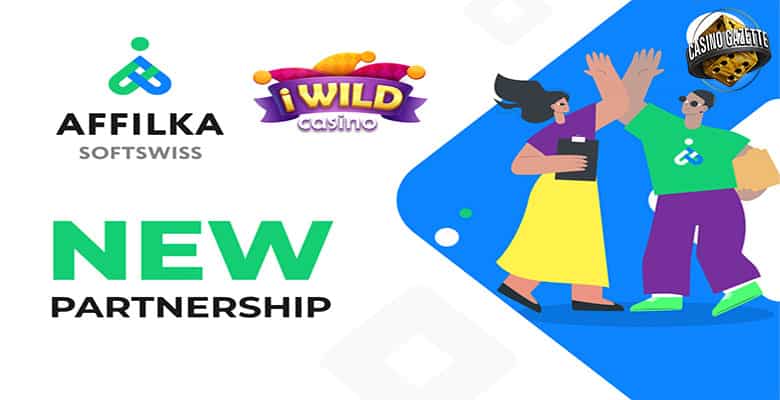 Latest Gambling News
iWildCasino and Affilka in Formation of iWildPartners
Affilka by SOFTSWISS is pleased to announce a new affiliate marketing partner with iWildCasino
Affilka by SOFTSWISS have this week announced  a new affiliate marketing partner. The latest client being iWildCasino who operate out of Curaçao. The affiliate program, which is the result of a partnership between Affilka and iWild Casino, is called iWildPartners.
Affilka by SOFTSWISS is a performance marketing platform which allows operators to promote and grow their business by partnering with affiliates.
It is a single solution combining a flexible commission constructor, built-in payment processing, integration with any iGaming brand via API and an access to real-time statistics.
At the moment, more than 100 casino and sportsbook brands use Affilka by SOFTSWISS marketing platform.
One of them is now officially iWildCasino, practicing an innovative approach in the traditional market and creating a quality product that meets the most pressing needs of both players and affiliates.
The company has already appreciated the convenience of using built-in payment systems and SOFTSWISS' merchant accounts to process affiliate payouts as well as the ease of tracking promo codes.
In addition to the integrated payment systems, one of the advantages of connecting to Affilka by SOFTSWISS is the ability to manage multiple brands at once.
The clients receive full technical support from the Affilka by SOFTSWISS team, which includes onboarding for its employees.
Anastasia Borovaya, Product Owner of Affilka by SOFTSWISS, commented: "We are more and more delighted with every new partner and thank iWildCasino for placing their trust and choosing Affilka by SOFTSWISS."
"We are constantly working on developing our program and expanding the features available to our clients. Therefore, we are confident that iWildCasino will appreciate the features of Affilka and use them effectively in their marketing efforts."
Dmitry Yakovlev, CEO of iWild Group, commented: "First of all, I would like to mention the professionalism and friendliness of the Affilka team, who accompanied us during the introduction to the platform, as well as in the integration process."
"Immediately noticeable is the sincere involvement of employees in the processes, which provides the most comfortable environment for the clients. This is very pleasing."
"I am sure that with this approach we will have an interesting and efficient cooperation ahead of us!"